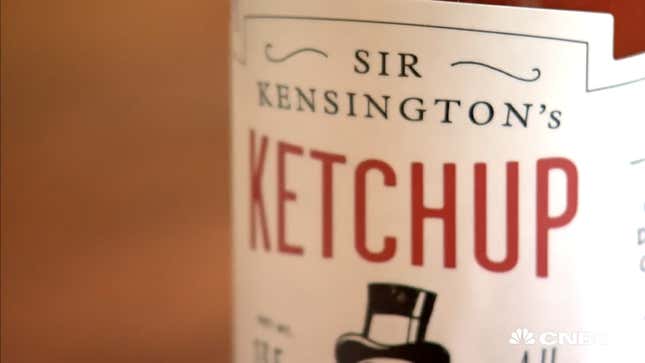 There isn't one condiment I can think of that is more divisive than ketchup. We fight over what it's supposed to go on, whether or not it belongs on a hot dog—we even bicker over which ketchups are the best. The general consensus is that Heinz reigns supreme, which unfortunately makes the world a cold, unforgiving place for alternative ketchup brands. This is why we're sad (but not surprised) to report that Sir Kensington's Ketchup is no more.
How To Dispose Of Cooking Grease The Easy Way After Frying
In a Medium post on February 21, Scott Norton, co-founder of Sir Kensington's, announced that the brand's ketchup products have been discontinued. The brand was established 13 years ago by Norton and Mark Ramadan as a challenge to Heinz's consistent monopoly on the condiments market. Sir Kensington's Ketchup was the brand's original and flagship product.
When it first launched, the product was unique in that it contained no corn syrup (the third ingredient listed in Heinz ketchup), and it provided a different, more complex flavor profile than the mass-market stuff we're all used to. In our recent ketchup taste test, we loved Sir Kensington's—in a surprise upset, it even beat out Heinz for the top spot. But as Norton goes on to say in the Medium post, it all comes down to the numbers.
Why Sir Kensington's is discontinuing its ketchup
There are three main factors at play in the demise of Sir Kensington's Ketchup.
"Through the pandemic, international war, and inflation of the past three years, ketchup faced price pressure and cost pressure that was untenable," Norton writes. A low-margin product like ketchup quickly becomes less profitable when market conditions are disrupted in any way. That's not great when you have to bank on high volume to sustain your business.
Second of all, ketchup isn't the brand's flagship product anymore. Norton notes that in the decade since it hit the market, Sir Kensington's Mayonnaise has risen to become the company's top seller, accounting for 75% of the brand's total sales. Ketchup, by contrast, has sunk to just 10%.

Finally, axing ketchup simply wasn't Norton's decision to make. Sir Kensington's was purchased by food giant Unilever in 2017, so ultimately the brand doesn't have final say in which products stay and which get cut. Unilever took away the Choco Taco last summer, and now it has decided to let go of Sir Kensington's Ketchup. The world is a cruel place for lovers of corn-syrup-free condiments and novelty desserts.
For me, the disappointment lies less in the loss of the ketchup itself and more in the loss of variety. The ketchup aisle isn't exactly what I'd call diverse: You've got the major brands like Hunt's, French's, and Heinz, and while alternative choices are trickling into the mainstream, the options remain slim. Even if I wasn't reaching for the Sir Kensington's myself (was I the problem this whole time?), I was always glad to see it there, in defiance of Heinz's sheer market dominance.
You will still be able to find Sir Kensington's for a little while, since there is some remaining stock on Amazon and grocery store shelves, but once it's gone, it's gone forever. So if you're a fan, you might want to go out and grab a few bottles. Thanks for fighting the good ketchup fight, Sir Kensington's. We'll miss you.