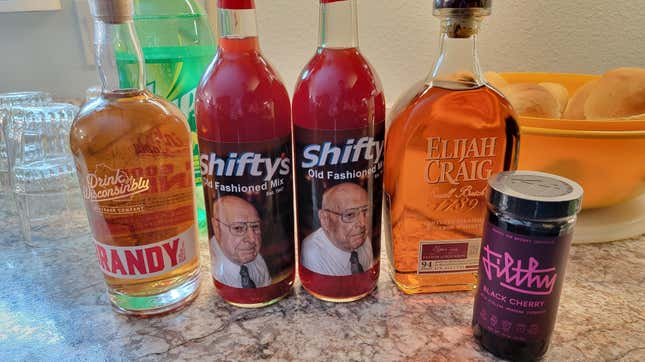 At first glance, there's nothing special about Shifty's Old Fashioned Mix. The bottle features simple text above a portrait of an aging bartender with a knowing smile. The ingredients are simple, too: water, cane sugar, aromatic bitters, and citric acid. But with a splash of brandy (or bourbon), a cherry, an orange slice, and a little sweet or sour soda, this mixture transforms into one of the most delicious drinks of its kind.

Dr. Pepper Strawberries & Cream Is Tearing Us Apart
So what makes Shifty's better than the average pre-mix? Like so many things, a good Old Fashioned is deceptively simple. If you're making the mix from scratch, it could take years to get the perfect balance of ingredients. And Shifty, a man who spent more than half a century behind the bar, did exactly that.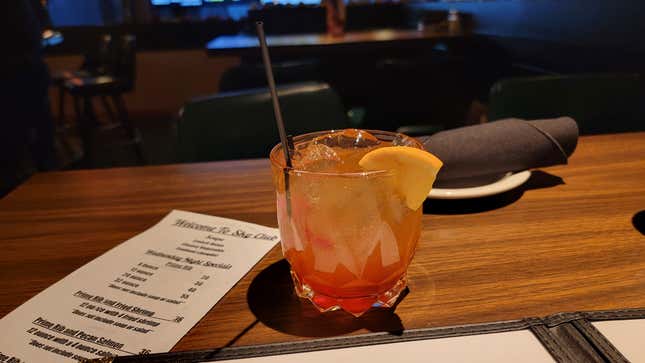 "Shifty" was no ordinary bartender
From 1947-2008, Jerome "Shifty" Hafner developed a special recipe for his signature cocktail. It was so good, in fact, that it vaulted him into the Bartender Hall of Fame in 1988. According to the product description on the Shifty's website, "Hafner made his mix famous while bartending at Hotel Whiting in Stevens Point, Wisconsin [from] 1947-'72 and Sky Club from 1973-2008." Add that up and you're looking at sixty-plus years behind the stick. What a guy!

Flash forward to 2023. This versatile pre-mix is bottled and sold all over Wisconsin, and out-of-state fans can have Shifty's shipped to their door. The original Hotel Whiting may no longer exist, but Shifty's later stomping ground, Sky Club, is still open for business.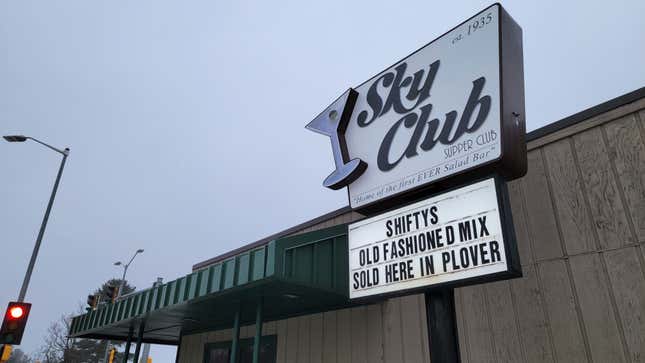 A visit to the source of Wisconsin's best Old Fashioned 
At 4 p.m. on a rainy Wednesday, I paid a visit to this landmark supper club. Soon after walking through the door, I understood why Mr. Hafner stuck around for so long.
The Sky Club is beautiful. Not in a hotel rooftop or seaside dining kind of way, but in that warm, dimly lit, comfortable manner that's the hallmark of any good supper club. The wood and green leather booths are perfect, and the wide bar serves as the focal point for the main dining area.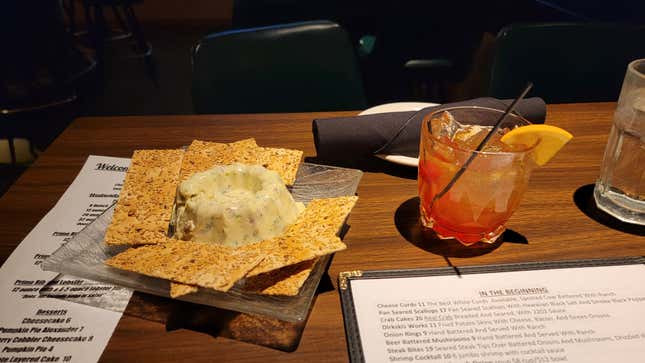 Speaking of the bar, the visit wouldn't have been complete without one of the venue's signature drinks. I ordered a brandy Old Fashioned sour, and it was every bit as refreshing and tasty as I'd dreamed.

My meal was likewise outstanding. From the prime rib and potato skins to the giblet mould (a dish perfectly suited to the midcentury atmosphere), it was classic fare done absolutely right. Oh, and the beer-battered cheese curds? Gooey, lightly crusted, and the best I've ever had.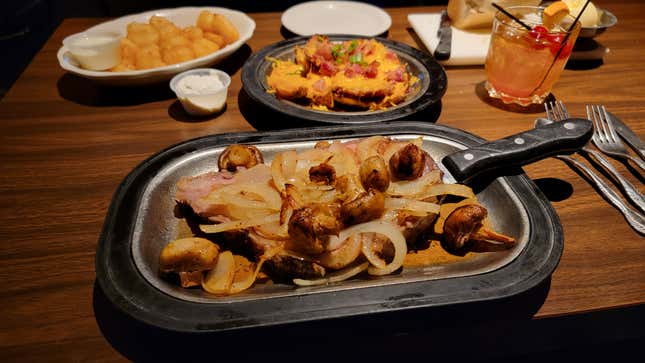 It should also be noted that Shifty's Old Fashioned Mix isn't the Sky Club's only claim to fame. According to its website and signage, it's also the "Home of the first EVER salad bar 1950." That's the restaurant's phrasing, not mine. Like so many culinary origins, it's a difficult statement to prove. But it's listed on Wikipedia, and there are corroborating stories to be found.

Whether you're looking for a salad, a friendly drink, or an appetizer full of gelatin, Sky Club is definitely worth a stop. And if you're lucky enough to find Shifty's Old Fashioned Mix in your local liquor store, grab a bottle or two. It's also great to know that the drink base is available for purchase online. This means that no matter where you live you can turn down the lights, pop a prime rib in the oven, and crack open the brandy for that supper club feeling in the comfort of your own home.