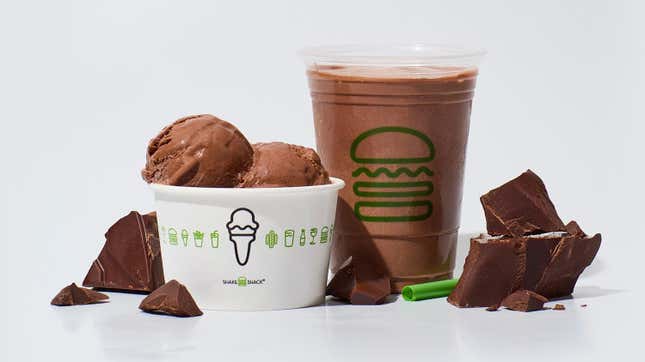 Shake Shack added to its existing lineup of vegetarian offerings this week by debuting a new veggie burger and two new plant-based desserts, a non-dairy chocolate shake and a non-dairy chocolate frozen custard. All of this might seem pretty standard, but notably, the latter two items were developed with the help of an AI algorithm named Giuseppe. Yes, Giuseppe.

Dr. Pepper Strawberries & Cream Is Tearing Us Apart
The algorithm is a product of NotCo, a Chilean food tech company that specializes in dairy-free products. Giuseppe's namesake is the artist Giuseppe Arcimboldo, a 16th-century painter whose portraits used vegetables to form the faces of each subject.
"Similarly, Giuseppe - our genius G - guides us in the formulation to replicate a specific product of animal origin, using only plants," reads a portion of NotCo's FAQ page.
How an algorithm builds a plant-based fast food menu
The AI algorithm works by breaking down animal-based foods to a molecular level and then finding plant-based molecules that will best mimic the characteristics that make the food likable. On its website, NotCo likens this to building with Legos:
"In a world of thousands of delicious foods, what makes us love what we eat are the characteristics of each product, made of specific molecules that make it what it is. Just like Lego™ brick pieces in a Lego™ house. We can find whatever Legos™ we need to replace the animal-based ones! This is the basics of how Giuseppe Works. It analyzes the structure of an animal-based food at its molecular level and replicate it using only plants-based ingredients."
Shake Shack has announced that the new chocolate custard and shake offerings use plant-based milk from NotCo. According to NotCo's website, its signature milk, NotMilk, "sips, slurps and froths like milk, but it's made from 100% plants." Its ingredients, presumably pinpointed at a molecular level by Giuseppe, include (among other things) water, sunflower oil, pea protein, pineapple juice concentrate, and cabbage juice. None of this sounds like it would add up to milk, but if Giuseppe says it's what should be in there, then I say go forth.
In a statement, NotCo's CEO and Founder, Matias Muchnick, said that having NotCo's products on the Shake Shack menu is "a clear statement of our ability to create elevated tailored-made delicious and profitable versions of products in record time that appeal to the mass market."
How AI is generating other vegan foods
In addition to Shake Shack, NotCo has partnered with Kraft Heinz to create TheKraftHeinzNotCo, using Giuseppe to find plant-based pathways in the company's product line. Vegan American cheese in the form of Kraft Singles was first on the list. We can only assume that the powdered cheese in our Kraft mac and cheese might not be far behind.
Reps for NotCo state that Shake Shack is the company's first U.S.-based food service partnership, but NotMilk has been used in the food service realm in Latin America, including at Starbucks, Dunkin', and Burger King.
The news about AI-based Shake Shack offerings is a bright spot in an otherwise iffy PR week for artificial intelligence. Geoffrey Hinton, the so-called Godfather of AI, resigned from Google and said in an extensive New York Times interview that he fears AI could have dangerous impacts on society in the coming years. Among the concerns cited by Hinton include that AI will obscure reality to the point where we can't tell what's real and what isn't; that it will upend the job market; that it will pose a threat to humanity by learning unexpected behavior; and that autonomous weapons (killer robots) will become a reality. That's all pretty dark!
Giuseppe feels like a contrast to the doom that is killer robots and distorted reality. The imagery on NotCo's website is that of bountiful plants, fruits, and vegetables, and it seems that what the company is selling us is a future where we can eat things that taste how we want them, without contributing to the negative impacts of animal-based products on the planet. And for what it's worth, I'm never not happy when a food company adds delicious, fun, vegetarian offerings to its menu. To that end, I'm excited to see what Giuseppe will cook up next.