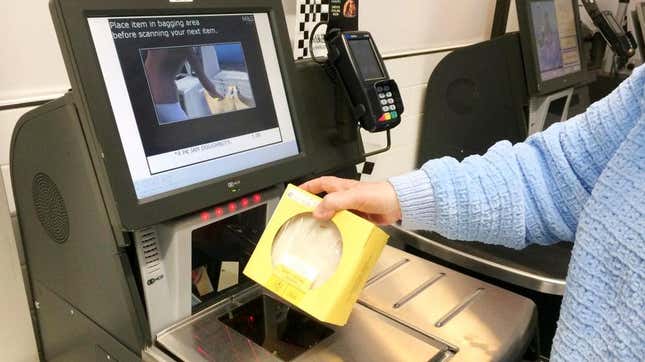 Self-checkout has been around for a hot minute now—longer than you think. Its first grocery store appearance is cited as having debuted at an Atlanta Kroger in July 1986 and reportedly looked like an airport luggage scanner. Since then, the offering has become streamlined and widespread, so much so that some Walmart, Target, and Dollar General stores have (nightmarishly, and not just for the workforce) fully replaced associate checkout with the kiosks.
As the pandemic increased the perceived ick factor of human interaction, there was a dramatic acceleration of self-checkout adoption. Trade publication Grocery Dive reported in November 2022 that the number of self-checkout lanes in the U.S. had increased by 10% in five years and comprised a massive 40% share of grocery store checkout options, despite 49% consumer preference for manned lanes—typically high school educated Boomers and Silent Generation shoppers with household incomes under $100,000.
Regardless of what we the people may want, the corporate robots have arrived and they're here to stay. Unfortunately, they're not the smartest of their kind. But apparently, neither are we. As Redditor Crooooow posted a heaping 12 years ago, "There is no etiquette. Self-checkout is the only pure anarchy."
Today, despite their ubiquity, the self-checkout area is still a bit of a wild, wild West, with plenty of road rage cruising down those lanes. Newbies and scaredy-cats can gum up the works for more experienced shoppers, most of whom have seemingly adopted at least some unspoken rules for this lawless corner of the supermarket.
It's about time we turned those loose, common-sense guidelines into hard-and-fast commandments. With majority-reflective opinions we've sourced from across the country and internet, we're laying down the official-with-a-capital-O rules of etiquette. Here's how not to be the worst person in the self-checkout lane.