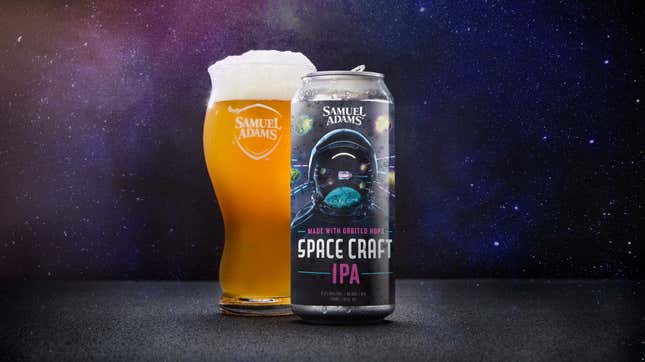 Update, December 10, 2021: Space Craft IPA is here! While online orders for cans sold out pretty quickly, if you're in the Boston area you can still grab some at the Samuel Adams Boston Brewery and Taprooms. I was lucky enough to not only get my hands on some, but also chat with Sam Adams brewer Rich Ferrell about working with hops that had been to space.
All the Best Finds at the Sweets & Snacks Expo
"Nobody quite knows exactly what happens when the cosmic radiation bombards DNA but we have an idea that since there's an effect on humans there might be an effect on hops," Ferrell says. "The beer that we brewed was designed to put the hops first and foremost in the flavor profile."
When creating the beer, Ferrell was less interested in trying to capture the taste of space in a can or glass, partially because most accounts from astronauts he read say that space has a metallic flavor. Instead, the focus was on the taste of the citra and mosaic hops themselves, a taste that Ferrell says may have been amped up while in orbit.
"When the brewers all gathered around and smelled the hops as they all came out of the packaging, it came in a sealed crate, it hadn't been previously evaluated, and we certainly felt that the hops were very very aromatic in ways that were interesting," Ferrell says. "We thought the hop character and whatever additional qualities it had taken on during the trip were so beautiful that we just wanted to keep the beer way in the background and let those hops shine."
Among those brewing the beer was Jared Isaacman and his team who were actually on the space mission as well (a mission which also raised $200 million to donate to St. Jude's Children's Hospital, so not just another vapid billionaire barreling through the atmosphere). They shared their experiences as the beer was being made. While those stories probably didn't have an effect on the taste of the beer, it was still a unique experience for the brewers to be able to ask, "So space, what's that like?" while whipping up a new IPA.
So what does it taste like, if not... space? The beer is a pretty classic west-coast style IPA, full and round from the almost vanilla-like flavor of those mosaic hops, but bright and not too bitter thanks to the orange and lemon that comes through from the citra hops. Probably the closest thing Sam Adams has put out to this is its Wicked Hazy New England style IPA; fully embracing that citrus flavor is, in itself, a bit of a departure for the east coast brewery, even if not fully out of this world. Those in Boston who can still get a taste of Space Craft IPA certainly won't be disappointed.
Ferrell is excited about the possibilities now that he's worked with orbited hops. "Instead of just sending Earth-grown hops into space and bringing them back, what if we grew them there?" he asks. "I'm sure we're not going to be the only brewers thinking about what the future might hold in terms of what additional properties traditional ingredients might take on if we start to think outside of our own planet."
Original post, November 4, 2021: Remember how the entire twilight of our summer was spent watching billionaires go into space for approximately eight minutes at a time? Oh, you were trying to forget that ever happened? Well, Sam Adams is here to remind us that it wasn't just the wealthy elite up in those rockets. There were also 66 pounds of hops hurled into space.

Travel + Leisure reports that the batch of citra and mosaic hops that joined the first-ever all-civilian space mission in orbit in September—a trip that actually lasted two days—have returned to Earth and are now in Samuel Adams' latest brew: Space Craft. The beer debuts on November 16, the same day that the Leonid meteor shower is set to peak, which I can only assume will activate some cosmic properties in the IPA.
The beer itself is described on the Samuel Adams website as a "piney and tropical west coast style IPA." The site goes on to say:
Space Craft is one giant hop-forward beer. The orbited hops propel the profile. Firm bitterness, with generous tropical notes like grapefruit, guava, and passionfruit co-pilot with piney and resiny hop aromas.
This is not the first time that beer and space have collided. We know that space does something to beer that requires specialty bottles, and that there is the possibility of growing beer-making ingredients on Mars. But as of now, there's not much out there about the science behind sending the hops to space and back, and why or how that might change the flavor and chemistry of the beer. Seems like we might just have to get our hands on some to do our own experimentation there. (It would probably go great with some space tacos.)
Space Craft will be available in person at Samuel Adams Boston Brewery and Taprooms and available to ship nationally at GiveThemBeer.com. No word yet on whether or not any brewskis will be enjoyed back up in space.