Oklahoma's state bird is the scissor-tailed flycatcher. Its state flower: The aptly-named Oklahoma Rose. Its state tree: The Eastern redbud. But you know what Oklahoma doesn't have yet? A state steak. But one man seeks to correct that oversight.
State senator Casey Murdock, who represents the northwestern region of the Sooner State, has put forth Senate Bill 21, which would designate the ribeye the "State Steak Of Oklahoma." Here's the entirety of the Senate bill, introduced on Tuesday:
Sooners are going to have to wait though; if passed, this act wouldn't go into effect until Nov. 1, 2019.
According to news station KFOR, though, not all Murdock's constituents think this, erm, legislation is the most prudent use of his efforts.

G/O Media may get a commission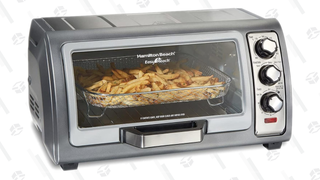 40% Off
Hamilton Beach Countertop Toaster Oven
But Murdock—a rancher himself—contends a state steak would be beneficial to the restaurant industry, tourism, and morale.
"We get beat up on different issues; we're last in education, we're last in this and that, and we need to promote what is good in that state also," he told KFOR.
He acknowledges it's a bit of a "cheerleading bill," but says it would promote the state's agricultural industry. The Tulsa World reports Murdock also says it would boost commerce.
Not everyone is on board.
"They could be working on education instead of thinking about steak names," Oklahoma resident Brent Thrasher tells KFOR.
It is not immediately clear whether SB21 would choose between bone-in or standard ribeyes, or encompass both. A vote to pass this act has not yet been held.