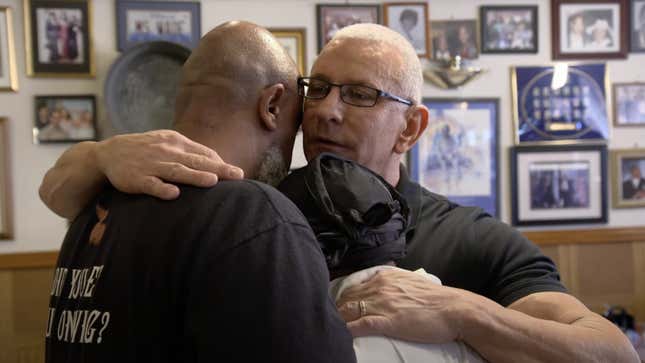 After 22 seasons, the Food Network show Restaurant: Impossible, hosted by chef Robert Irvine, has been canceled. The news, reported by Deadline, is disappointing to loyal fans, but isn't exactly surprising: Much of Food Network's programming has shifted to cooking competition series in the past few years, and Restaurant: Impossible had become something of a vestige what Food Network shows used to look and feel like.
How To Dispose Of Cooking Grease The Easy Way After Frying
Who is Robert Irvine?
Robert Irvine is an English chef and television personality who rose to fame on the Food Network starting around 2007, when he began starring as the host of a show called Dinner: Impossible (originally titled Fit For a King). On that series, which released new episodes as recently as 2021, Irvine is typically tasked with cooking through various obstacles in order to feed a large group of people.

He would go on to join Worst Cooks in America, a reality competition show in which terrible cooks became passable ones under the mentorship of Food Network stars. Starting in 2011, he began his stint as the host of Restaurant: Impossible, which lasted until 2016. After a three-year hiatus, the series returned in 2019 with Irvine at the helm. Last month, however, Food Network pulled the plug (more on that later).
Irvine, it should be said, isn't without his past controversies. In 2006, he was in the process of opening two restaurants in St. Petersburg, Florida, when the local newspaper published a piece questioning his resume. He'd previously claimed he was a Knight Commander of the Royal Victorian Order, had done work on Princess Diana and Prince Charles' wedding cake, and served as a chef at the White House, but all of these claims were found to be dubious at best.
His bio was subsequently pulled down from the Food Network's website, and he was replaced on Dinner: Impossible by chef Michael Symon; his St. Petersburg restaurant projects were also canceled. Irvine subsequently apologized for exaggerating his past experiences and returned to the Food Network as a TV personality in 2009.
Was Restaurant: Impossible any good?
Much in the vein of Kitchen Nightmares, hosted by chef Gordon Ramsay, the format of Restaurant: Impossible involves Irvine visiting failing restaurants to give them a second chance. In each episode, he's furnished with $10,000 and two days to fix almost every issue in the restaurant, including dining room design, menus, staffing, and other elements of business management that can cause an establishment to fall on hard times. (Often, it was the co-owners themselves who had to work on their relationships.)
The show is rated 6.8 out of 10 on IMDB, and frankly, I have always hated it. As a viewer, the whole "tough love" act by the musclebound Irvine always got on my nerves, and watching him tear people down only to hastily attempt to build them back up in 48 hours felt like an exhausting, manipulative gimmick that took advantage of people's misfortunes for disposable TV. And it's not as though the track record for these restaurants sees any noticeable boost from Irvine's involvement—several online resources have sprung up to provide updates on just how many businesses closed even after the Food Network gave them a facelift.
Granted, I'm one of those viewers who has lamented the loss of glossy food travelogues and informative cooking shows, and I might very well be in the minority when I say I won't miss Restaurant: Impossible. While the recipes Irvine supplied to the restaurants mid-makeover always seemed to be an improvement over what they'd been serving before, the food always looked so overly simple—the culinary equivalent of a Chip and Joanna Gaines renovation—that I don't think I would have picked most of them as destination restaurants.
Irvine's response to the cancellation of Restaurant: Impossible
Just like the restaurants themselves, Restaurant: Impossible has, after 12 years and 22 seasons, run its course. The Food Network has discontinued the show.
When asked by fans on Twitter about whether or not a petition to Food Network would save the show, Irvine said he didn't think so.
"I don't think any amount of fans telling Foodnetwork to bring it back will do anything.. to change their mind," Irvine wrote in response to one viewer. "They have a different idea of what the viewers want and @rest_imposs isn't in that .. so we will move on and see what happens next."
In another tweet, Irvine said Food Network doesn't seem to think Restaurant: Impossible would appeal to younger audiences, but he also implied that he had other projects in the works as well. I highly doubt this is the last we'll see of Irvine on television—he'll just show up in a different format.
In the meantime, Irvine owns multiple businesses, including a namesake restaurant in Las Vegas at the Tropicana hotel and a distillery called Boardroom Spirits, and he's also the face of a protein bar brand called Fitcrunch. For those of you who still crave kitchen makeover shows, don't fret: Deadline also reports that Gordon Ramsay's Kitchen Nightmares is returning to FOX after a 10-year break.