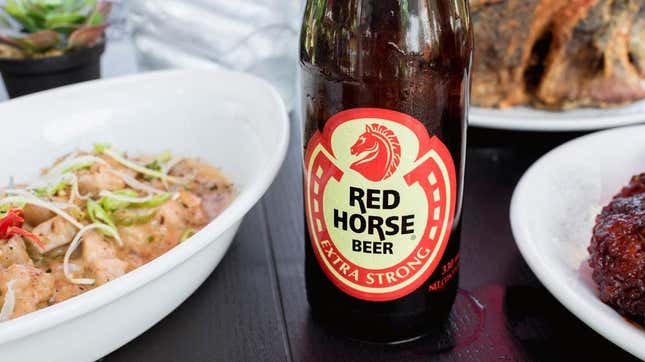 I didn't grow up with Filipino food in Amish country, Pennsylvania, so Los Angeles has been my crash course introduction to all of its bounteous offerings. This city has, by extension, been my initiation to dank Filipino beer, the perfect sidecar to a feast of crispy lumpia, chicken adobo, sizzling crispy pork sisig, and giant plates of pancit canton noodles. Fatty, funky, citrusy foods cry out for a cold one, and luckily such Filipino establishments keep a strong-ass lager on hand: Red Horse.
All the Best Finds at the Sweets & Snacks Expo
What is Red Horse beer?
Red Horse, first introduced in 1982 and brewed by the San Miguel Brewing Company in Manila, is a high-ABV lager with a sweet, almost malty taste. It's got a dark golden hue to it, and it comes in a thick bottle. The first time I had Red Horse I was at Kusina Filipina in Los Angeles. I was warned several times, by both my friends and the restaurant's owner, that it's a very strong beer. And, boy, it was.
Per the San Miguel website, Red Horse is "For the man with real strength, inside and out." The implication here is that you need to have your shit together, which is a pretty harrowing warning for a mass-market beer. What does it mean to have real strength inside? Do you need to go to therapy regularly to enjoy this beer? (Honestly, not the worst guideline across the board.) 
Red Horse does have an 6.9% ABV, which can be pretty formidable if you don't know what you're getting into (most of America's leading beers are 4.2%). However, when it's exported or served in the Philippines, Red Horse is more like 8%. Pretty damn strong; gonna have to set up a session with Linda next week.
Also, the beers are typically served in 500ml bottles (roughly a pint), so it's a big honkin' beer with a high ABV—a recipe for disaster if you're not eating well. Thankfully, that's almost never the case, since this beer is meant to be enjoyed with a meal. That's the beauty of Red Horse: Its slightly sweet, bitter flavor plays awesomely with food, especially rich and sour flavors of Filipino classics. It's one of the few cuisines that I regularly enjoy with a cold one.
It is decidedly not a light beer, and it does intend to fuck you up, but that's what's great about it. Drinking Bud Light alongside one's dinner has always seemed psychotic to me. Light beer is flavorless, watery, and bland; it adds nothing to food. But Red Horse is flavorful, assertive, and bold—much like Filipino food itself.
When the owner of Kusina Filipina told me in a beleaguered fashion that the beer is stronger in Manila, I laughed heartily.
"I can still smell it," he said, his tone suggesting that Red Horse has been the source of many regrettable nights.