It's Cold Soup Week at The Takeout, where we celebrate the pleasures of chilled soups during the dog days of summer.
I love pretty much all things potato (and not just the fried versions): mashed, scalloped, twice-baked. But I still had a moment about vichyssoise: The prospect of cold potatoes gave me pause. Turns out, though, that the heaviness of the summer heat actually makes vichyssoise a perfect fit. Thanks to the addition of a significant amount of leeks, and a dollop of some high-end dairy products, you get a soup so rich it doesn't even need to be heated. It's also one of those dishes that's easy to pull together out of your pantry, as long as you have some heavy cream on hand. (We went with the Anthony Bourdain version of this classic cold soup, as he was known to have a rich palate.)
The trick, really, is to use an immersion blender (one of the best Christmas presents I ever received), which will effortlessly puree your potatoes and leeks into a concoction just begging to be drizzled with cream and chives. Add some crusty bread and then curl up for a starch-induced summer nap. You can also heat this soup up if you must, but the next time it's so hot you can't even bear to think about eating, give this deluxe yet simple dish a try.
---
Vichyssoise
Adapted from Anthony Bourdain's Les Halles recipe
G/O Media may get a commission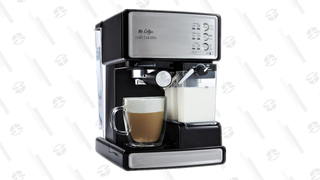 36% Off
Mr. Coffee Espresso And Cappuccino Machine
4 leeks, white part only, cleaned and thinly sliced

2 medium potatoes, cut into small cubes

2 cups chicken stock

1 cup heavy cream

1 pinch nutmeg

Salt and fresh pepper

4 fresh chives, finely chopped

Creme fraiche
In a large, heavy-bottom pot, melt butter over medium-low heat. Once butter is melted, add the leeks and sweat for 5 minutes, making sure they do not take on any color. Add potatoes and cook for a minute or two, stirring a few times. Stir in the chicken stock and bring to a boil.
Reduce heat to a simmer. Cook on low heat, gently simmering for 35 minutes, or until the leeks and potatoes are very soft. Allow to cool for a few minutes.
Using an immersion blender, blend the mixture until smooth. (Or use a regular blender, adding the soup in small batches.) Add nutmeg and season to taste. Add cream and stir until mixture is uniform in color. Garnish with a drizzle of creme fraiche and chopped chives.