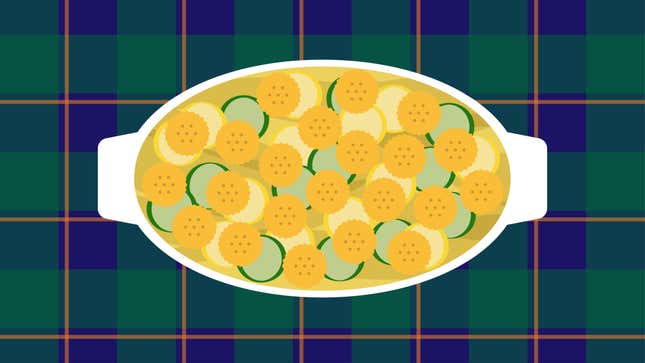 I'm from the South, so the vegetables I ate growing up were usually covered in something creamy—cheese, butter, bacon fat—and there was usually a gravy boat around somewhere. While I now top my greens with just a little salt, I make an exception at the holidays—primarily for my squash casserole.

All the Best Finds at the Sweets & Snacks Expo
I've been making the same squash casserole for more than a decade. The vegetables are mixed with a white sauce similar to the gravy I used to put on my breakfast biscuits (minus the sausage), plus there are crackers inside and on top. Eating it feels like lying on a sofa under a blanket. It is very hygge. It would sound better if I said it as an old family recipe, passed down for generations, but it's just something I altered from a recipe online.
I started making it for Thanksgiving because I wanted to contribute, but I didn't want to make something complicated. After a couple years, some of my family members started requesting the casserole and were legitimately disappointed if I didn't make it. I think what people love so much is that it's a savory counterpart to the sweet-potato casserole and cranberries it's sandwiched between. And because it's not sugary, that means it's healthier… just kidding. But it is a delicious warm mix of softness and crunch.
Don't worry about messing up the recipe. As long as you use the ingredients somewhere in the vicinity of the original measurements, it'll taste good (though don't go overboard with the salt). Pro-tip: I use Wondra flour in the white sauce. It's not necessary, but it does mix easier than all-purpose, which tends to clump.
---

Ritz-and-gravy squash casserole
5-6 medium zucchini or yellow squash (or mix and match)

Half an onion

1/2 cup milk (non-dairy is fine; I've used almond, cashew, and soy)

1 Tbsp. Wondra flour

1 Tbsp. margarine or butter

1 tsp. sweet basil, chopped

3/4 tsp. salt

1/2 tsp. pepper

1 sleeve Ritz-like crackers, crush (Saltines can be used in a pinch, but they're not as buttery)

10-15 of the same crackers, crushed for the topping

Slice the squash either in whole or half circles—don't dice them into tiny pieces. Cut up the onion however you like. Steam the squash and onion lightly, until they just start to get tender. Mix the milk, flour, margarine, basil, and salt until it becomes a thick sauce. (If you use all-purpose flour, make sure you stir or whisk continuously to break up any clumps.) Put the steamed squash and onions in a bowl and stir in one sleeve of crushed crackers. Pour the white sauce on top and mix it all together.
Transfer everything into a lightly greased 8x8-inch casserole dish. (Double the recipe and put in a 9x13-inch dish if you've got a big crowd.) Top with the rest of the crushed crackers. Bake at 350 degrees Fahrenheit for 45 minutes, or until it bubbles and the top is golden brown.