Holidays in Mexico are just another excuse for folks to get down with their bad selves. In my family, if you don't eat your weight in tamales you're doing it wrong. And if you're not washing down those tamales with ponche Navideño, you won't be invited back.
Ponche Navideño is a boldly flavorful drink, served warm, that you must add to your holiday cocktail arsenal. Packed with delicious fruits, it will leave your house smelling festive and, if blended with your favorite spirit, will leave you more jolly than old St. Nick.
Traditionally served out of clay mugs, ponche Navideño is practically required drinking on Christmas Day, but in some parts of Mexico, ponche is also enjoyed throughout Las Posadas, a nine-day celebration starting December 16th and ends on the 24th.
The main ingredients in a pleasing ponche are sweet and soft fruits: guavas, apples, pears, raisins, prunes, oranges, and tejocote (a sweet and slightly bitter Mexican fruit, similar to a crabapple). The piloncillo (unrefined whole cane sugar, commonly used in many Mexican recipes) and sugar cane added to ponche amp up the sweetness level. During the holiday season, Latin-American supermarkets tend to carry the ingredients for ponche. If you don't have a Latin-American market near you or you can't find every ingredient, Google will help you find a substitute. You can even add other fruits and spices to your liking. This particular recipe calls for a slice of starfruit as a garnish because the tartness of that fruit balances the rich sweetness.
G/O Media may get a commission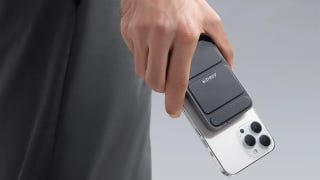 15% off
15% off Anker Top Ten Products
Take charge
Treat yourself to a portable power bank, a magnetic wireless battery for iPhones, or even a solar generator. There is a reason these are in the top ten. For instance, the Anker 747 Power Bank is a 4-in-1 charger utilizing USB-A and USB-C to be capable of charging up to four devices at once. Great to take with you when traveling and in need of keeping your phone, laptop, and even Nintendo Switch powered on.
It was under the guise of being a renowned ponche scientist that this layman hypothesized one way to make this witches' brew even better was to experiment with different types of booze. I tested the hypothesis with four different spirits: an ounce each of rye, bourbon, rum, and apple brandy added to four 12-ounce portions of the base ponche. The panel of five friends all agreed that, while each was delicious in their own right, the apple brandy was the spirit that most complimented the ingredients in the ponche.
Science!
So while you're stuck rehashing Facebook drama with your over-sharing aunt this month, or dealing with the fact that the person you got paired with in the grab-bag exchange asked for their gift receipt before they even considered saying thank you; make sure you have ponche Navideño to soften the season's many blows.

---
Ponche Navideño
1 gallon water
1/2 large piloncillo cone (or 6 oz. of brown sugar)
3 cinnamon sticks
1 lb. tejocotes (if unavailable, substitute crabapples, or just omit)
12 medium-sized guavas, halved
3/4 cup prunes, pitted and chopped
1 1/2 cup sweet apples, cored and diced
1 cup pear, cored and diced
1/2 cup raisins
3 sugar-cane sticks, about 5-in. long cut into four pieces each
1/2 cup of tamarind pods, husks removed and seeded
1/2 cup hibiscus flowers, in a tea pouch or mesh bag
Apple brandy to taste (about 1 oz. per 12-oz. pour)
Starfruit, orange, or pineapple slices to garnish
Place water in a large stockpot on medium heat. Add the piloncillo, hibiscus, and cinnamon sticks, cooking for 15 minutes. If you are using fresh tejocotes, add them with the piloncillo and cinnamon, since they take longer to soften. (If you have canned tejocotes, add them in the following step.)
Add the chopped fruit along with the sugar cane sticks and tamarind pods and simmer for at least 1 hour. Remove hibiscus pouch. Serve hot in mugs, ladling some of the fruit into each cup.
Add apple brandy to each mug, to taste. Garnish with fruit slices.