Next time you see pasta all'Amatriciana (more often than not, it's bucatini all'Amatriciana) on a menu, don't order it. I'm serious. Kind of. You're better off making it yourself so you can see that it includes its most important ingredient.
See, I fell in love with the stuff after the first several times I had it at various New Jersey BYOB joints (my home state is quite stingy with the liquor licenses). But my beloved turned out to be a complete fraud. And, oddly enough, I didn't learn this until a few years ago when I was in a high-end restaurant in Las Vegas. Pasta all'Amatriciana was on the menu, so I ordered it, and it was better than any other version I'd ever had.
"That's the guanciale," the waiter said. (Please cut me some slack for my ignorance; I'd only been eating meat again for a year at that point following a long bout of vegetarianism).
Turns out that the import of guanciale, or cured pig jowl, had been banned by the FDA for decades, along with a vast array of other cured Italian delights. Prosciutto de Parma was the rare delicacy that was exempt. That didn't mean American purveyors couldn't make their own guanciale, but there just wasn't enough of a market for it in the U.S. for those versions to be pervasive.
It's still not the easiest meat to find, but its availability has expanded somewhat now that folks are more keen on authenticity in their recipes. It helps that it's also the traditional pork product used to make spaghetti carbonara. American menus are more likely to feature Amatriciana and carbonara with pancetta or even bacon, but I'd argue you guanciale brings a richness that other pork products simply cannot replicate. Pancetta's a serviceable substitute and there's probably no harm in ordering a dish made with it, but just know that it'll be a mediocre facsimile of the real, guanciale-flavored thing. (I mean, just think about how soft and supple human jowls can be. Then imagine them on a pig! That makes for some very tasty meat.)
G/O Media may get a commission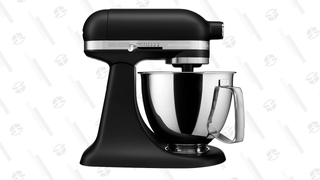 30% off Kitchenaid
KitchenAid Black Friday Sale
Amatriciana gets its name from its place of origin, the mountainous town of Amatrice in Italy's Lazio region. It didn't take long for it to become a staple of Roman cuisine—Rome, also in Lazio, is about 85 miles from Amatrice—just as carbonara has. Guanciale's a specialty in Lazio, so it makes sense that the two of the Italian capital's signature pasta dishes include it. The third, cacio e pepe, is meatless, but you can bet that if the recipe called for pig flesh, it would be guanciale.
Some versions of Amatriciana call for onions, while others don't. Onions have become fairly typical in the Roman iterations, so I've always used them in mine. However, they're mostly absent from the original Amatrice dish.
Bucatini usually has been my go-to pasta shape for the dish, as that's the way it's served at restaurants that make the most authentic versions. I've started mixing it up a bit since I visited Rome a couple of years ago and discovered that it's just as common to get Amatriciana with rigatoni there. When I'm serving it at a dinner party and introducing guests to it for the first time, I stick with bucatini. I get more flexible when I'm just cooking it for my wife and me. It really depends on my mood.
The hardest part of making Amatriciana is, as I've mentioned, the most important: finding the guanciale. There are recipes all over the internet for making your own, but unless you're a hardcore meat-curing hobbyist, I'd advise against it. It should only take a couple of phone calls to high-end butcher shops, gourmet markets, and Italian delis to find someone local that carries it. Some online gourmet sites also sometimes carry it. I was lucky enough to find two places in my city that sell it, typically charging around $2.50 an ounce. I swear, though, it's worth every penny (and it's not like you're going to be making amatriciana every week, so treat yo' self). Once you've procured this divine meat, the rest is super simple.
Bucatini All'Amatriciana (a lá Jeff)
2-3 Tbsp. extra virgin olive oil
1 pound of bucatini pasta
1/2 pound guanciale, chopped into ½-inch chunks
1 medium-to-large-size onion, minced (1 cup's worth)
1 can (28 oz.) of San Marzano tomatoes (make sure the can says "D.O.P."), hand-crushed or lightly crushed in a blender/food processor
5 cloves of garlic, coarsely chopped
1/2 cup grated Pecorino Romano, plus a little extra for serving
3/4 tsp. crushed red pepper flakes
3/4 tsp. sea salt, plus more to taste
Heat the oil in a large skillet or Dutch oven. Add the guanciale and cook until it starts to get crispy and a little brown, about 7 minutes, stirring constantly. Add the red pepper flakes and let their flavor infuse the oil for about 30 seconds. Add the onion and stir for about a minute. Next, add the garlic and cook until it softens and starts to get some golden-brown spots, about 7-8 minutes.
Add the tomatoes and salt. Bring to a simmer and then lower the heat and let cook for about 15-20 minutes, stirring regularly. Test for salt and add more if necessary. (Don't go too crazy because the guanciale provides ample flavor.) Meanwhile, bring a large pot of water to a boil and salt the water once it starts boiling. Add pasta and cook until it is just shy of al dente. Reserve about ½ cup of the pasta water and then strain the pasta.
Add the pasta to the tomato-sauce pan and cook for another 2-3 minutes, stirring constantly. Add the pasta water little by little to prevent it from getting too dry. Stir in the Pecorino Romano. Serve with a little extra Pecorino if desired.