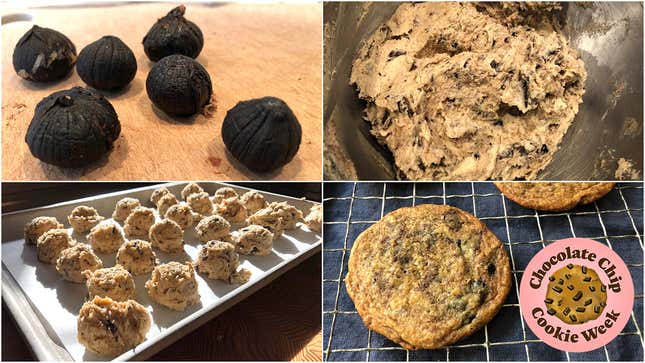 Welcome to Chocolate Chip Cookie Week, celebrating one of America's most iconic and widely loved comfort foods. 
All the Best Finds at the Sweets & Snacks Expo
---
Improving upon a chocolate chip cookie is hard to do. Whether you are a fan of the back-of-the-yellow-bag recipe, or Alison Roman's viral salted butter chocolate chunk shortbread, or whatever variation in between came out of your mom's (or grandmother's or uncle's) ovens, a chocolate chip cookie is a nearly perfect food.

But sometimes, when a recipe is a definitively American one, as the chocolate chip cookie is, there is an opportunity to explore how some outside influences might affect the original. Case in point: The superior tahini-enhanced version that is currently running around the internet. It hits some of the same notes that a peanut butter chocolate chip cookie does, but with a muskier, more grown-up back note that works brilliantly.

For this next cookie, we look to two Asian ingredients to ramp up our flavor and texture. The first is black garlic, a fermented product has recently become widely available stateside. Whole heads of garlic are slowly fermented until they are dried and concentrated, reaching the rich black-brown hue of molasses. Their fiery burn tempered and mellowed by time, they taste like a wonderful blend of dates and molasses with a mild bit of roasted, caramelized garlic in the background. When paired with the sweet dough and bittersweet chocolate in this cookie, they take on the same role a raisin or dried cherry would, adding a bit of fruitiness.

For the second surprising ingredient, we turn to Japan for mild white miso. There are plenty of recipes out there at the moment swapping out pureed black beans for some of the fat in brownies, with varying results. But those beans don't really add anything to the flavor of the bakes, they are there mostly to help either cut down on fat or sneak in extra protein. Miso, while also made of beans, is another fermented product, and is rich in both salt and umami, which help to balance out this cookie and prevent it from going too sweet, and to help create a bit of a chewy texture.

We don't think that these slightly exotic cookies are going to replace your regular rotation of Tollhouse when you get that craving. But we do think that when you are looking for a little something new and unexpected for this year's holiday cookie swap or the perfect thing to bring an adventurous eater as a gift, you will keep this one in your repertoire.

The cookies freeze fine after baking, but also freeze well once scooped, if you are baking from frozen just add a few minutes to the baking time.

---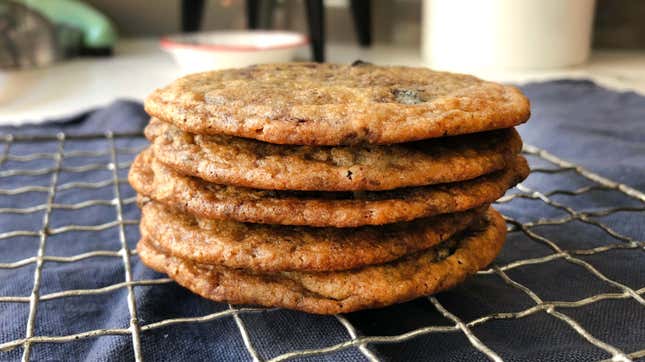 Miso-Black Garlic Chocolate Chip Cookies
Makes 16 large cookies or 36 small ones

2 cups all purpose flour

1/2 tsp. salt

1/2 tsp. baking soda

14 Tbsp. unsalted butter, at room temperature (1 3/4 sticks)

2 Tbsp. white miso paste

1 1/4 cups granulated sugar

1/2 cup light brown sugar

1 large egg

1 tsp. vanilla paste (can substitute the seeds from half a vanilla bean or 1 tsp. vanilla extract)

2 Tbsp. milk

7 oz. bittersweet chocolate, chopped coarsely

6-8 large cloves black garlic, chopped fine ***

In a small bowl, mix the egg, vanilla and milk until well blended and set aside.
In a separate medium bowl, whisk the flour, salt and baking soda until well blended and set aside.

In the bowl of your stand mixer with the paddle attachment, or in a large bowl with an electric hand mixer, cream the butter and sugars until light and fluffy, about 2-4 minutes. Add the white miso paste and beat another minute to blend well. Add in wet mixture and blend until creamy and cohesive, about 1-2 minutes. Add the dry mixture all at once and mix on low until the flour is just incorporated, don't over-mix.

Shifting to a large rubber spatula, add the garlic to the dough and fold in until well dispersed. You want to do this step before the chocolate so that you don't accidentally end up with large pockets of garlic. Once the garlic is evenly distributed, add in the chocolate and fold to combine.

If you want giant show-stopping cookies, you can make them as large as 1/4 cup each, which will fit approximately six on a sheet pan for baking, and you'll get approximately 14-16 cookies that size. A regular sized cookie scoop will make about three dozen. Regardless, you want to scoop the dough onto sheet pans lined with parchment paper. Scoop six per sheet for large or a dozen for small on your sheet pans, and pop into the freezer to chill a bit while your oven is preheating (at 350 degrees Fahrenheit). This chill will prevent them from spreading too much too fast during baking.
For baking large cookies: Bake 9-10 minutes, then turn the pan for even cooking and browning, which will take an additional 8-12 minutes. If you like your cookies a bit chewier in the middle, you can give the pan a firm tap against the oven rack when you are turning, which will collapse the dough to achieve that chewiness. If you like a lighter or cake-like cookie, skip that step. Bake until golden brown on the edges and cooked in the middle. Cool completely on a rack before serving.

For baking small cookies: Bake 6-7 minutes, then turn the pan for even cooking and browning, which will take an additional 9-12 minutes. Same with above instructions if you'd like chewier cookies (firm tap against oven rack).

*** Note about black garlic: If you cannot source this at your local grocery store or Asian market, it is readily available online, and has a very long shelf life. If you can find it, Black Pearl Garlic or Black Single Clove Garlic, (available on Amazon), are worth seeking out since they are a single large round clove about the size of an olive, easy to remove from the skin and easy to chop. But use what is easiest for you to source. The flavor is the same. For this recipe we used six cloves of the Pearl garlic, which are larger, if you are using regular black garlic, we recommend using eight cloves.