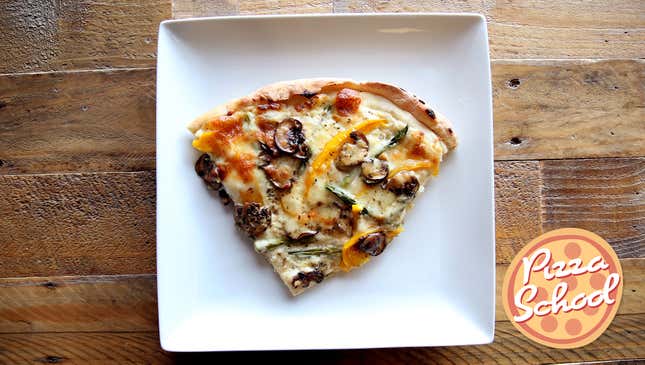 Welcome to Pizza School, in which pizza-making amateur Gwen Ihnat learns the secrets from pizza-making pros.

All the Best Finds at the Sweets & Snacks Expo
I love white pizza. When I do see it on a menu (rarely), I'm likely to order it immediately. When the Onion, Inc. staff here orders lunch from a particular local chain, near-fistfights have broken out over the potato-rosemary pizza. People seem to really love it or hate it. I am on the side of love.

So, when after two weeks of crafting my own pizza crusts and making my own sauce, it came time for my graduation pizza, I felt compelled to make my favorite pizza at home. That meant bypassing that delicious homemade red pizza sauce from last week (sorry, Dennis Lee). My husband vetoed a homemade potato-rosemary pizza due to the starch-on-starch factor (I know, what are you gonna do, I married him), so I decided to make my own white sauce, using an adaptation from my favorite, easiest alfredo-like cream sauce to craft a primavera pizza.
Maybe this is cheating, but you can call me out later. Worth searching out: Those Boursin cream cheeses that come in a box. At Costco, I always get the three-pack. Both the "garlic and fine herbs" or "shallot and chives" flavors make the easiest pasta cream sauce you can imagine. Just make a roux with 2 tablespoons of flour stirred into 2 tablespoons of melted butter. Add a cup of milk and stir until thick. Then add the whole circle of Boursin cheese, 1/4 cup shredded or grated parmesan, some salt, cracked pepper, garlic and/oregano if you like. Takes only a few minutes, and it's perfect.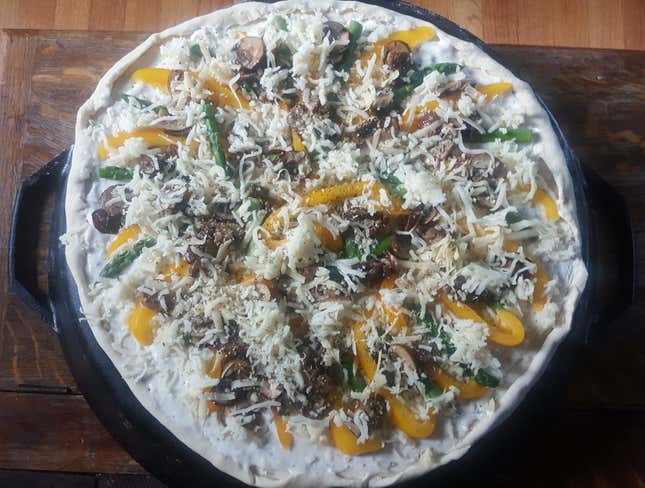 You can add more milk depending on how thick you like your consistency. To make a pizza sauce out of it, I kept it pretty thick. Then we decided to pretty it up with some primavera-type vegetables: sautéed mushrooms, blanched asparagus, raw yellow pepper. We added some mozzarella, more parmesan, and a heavy sprinkle of oregano on top. Thanks to rules from my pizza experts, a limit of three toppings maximum, and being able to see the sauce through the pizza, helped keep my creation from getting overloaded and gloppy.
I now have that delicious pizza crust memorized (dissolve a packet of yeast into 3/4 cup warm water, then add 2 cups of flour combined with 1 teaspoon each salt and sugar), and Pizzeria Bebu chef Jeff Lutzow's trick of dousing your fingers in olive oil really helps make the dough more pliable. And I have finally learned to check the pizza repeatedly so as to pull it out of my 500-degree oven before it gets too brown on top.
The result, even without potatoes, was straight-up delicious, so that now I can have white pizza at the ready. And it cemented the best part of crafting pizza a home, which is that you can make whatever you want, without being at the mercy of hour-long delivery or a somewhat limited menu. Which means I'll get to that potato-rosemary pizza yet. Or maybe a roasted pear-ricotta? Blue cheese and bacon? The possibilities, as they say, are endless.
---
Gwen's Pizza Primavera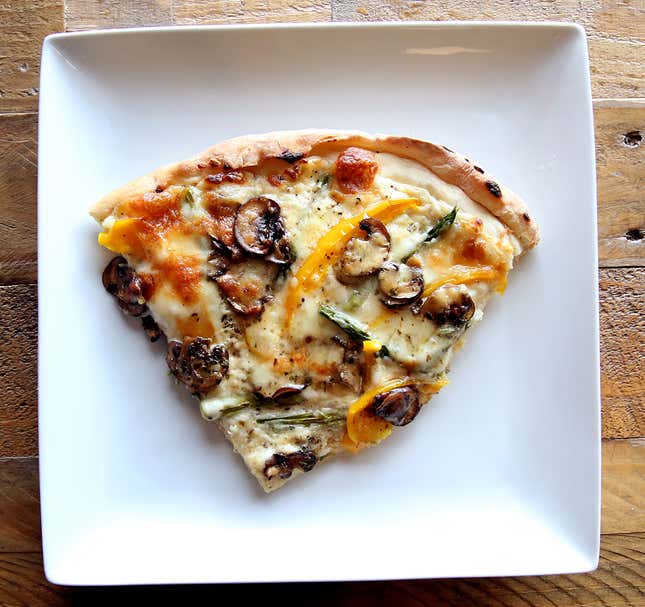 Crust

1 packet yeast

200g (3/4 cup) warm water

300g (2 cups) flour

1 tsp. sugar

1 tsp. salt

Sauce
2 Tbsp. butter

1 clove minced garlic

2 Tbsp. flour

1 cup milk
1 box (5.2 oz.) Boursin cheese

1/4 cup parmesan cheese

1 Tbsp. dried oregano

Salt and pepper to taste

Toppings
1 cup shredded mozzerella

1/2 sliced yellow bell pepper

1 cup sliced mushrooms sautéed in garlic

1 cup cut and blanched asparagus stalks

Extra parmesan

Extra dried oregano

Dissolve yeast in water and let sit for five minutes. In the meantime, combine flour, salt, and sugar. When yeast is ready, douse fingers in olive oil and mix in flour mixture. When mixture is combined into a smooth ball, put in plastic bag and refrigerate for at least an hour (can also do all day or overnight). Refer here for more details about making crust from scratch.
When ready to make the pizza, take the dough out of the fridge and start on sauce. Sauté garlic in butter, then add flour and whisk together. Slowly add the milk, stirring constantly until thick and not lumpy. Then add cheeses and seasonings and continue to stir until thick. If too thick, add milk until sauce is at your preferred consistency.
Roll out dough on pizza stone (I'm still using the bottom of a giant cast-iron skillet) and spread sauce on top to cover. Arrange vegetables on top of that, then top with mozzarella and parmesan. Sprinkle with oregano.
Bake at 500 degrees Fahrenheit or until browned. Let cool and serve.