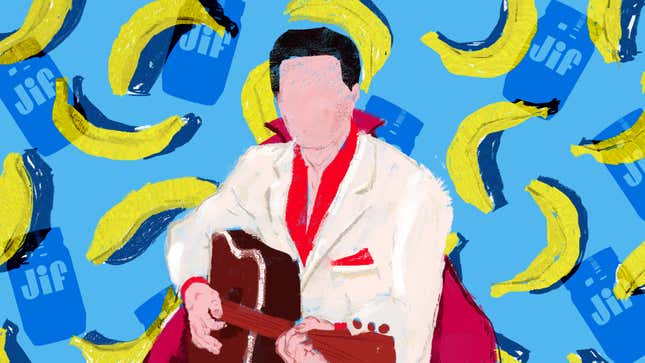 In Celebrity Recipes, we tackle a favorite recipe from a beloved star, past or present.
As far as famous people go, once you're known by a single name, you're on a whole different level. Cher. Madonna. Bono. And of course, the biggest celebrity of all: Elvis. And if you think of an Elvis recipe, likely only one dish comes to mind. Which makes Elvis' Grilled Peanut Butter And Banana Bacon sandwich the greatest celebrity recipe of all time.
In honor of the 41st anniversary of Elvis' death this week, I decided to make this concoction I have heard about my entire life. (I believe I first read about it in Tiger Beat magazine when I was a kid, described as "fattening, and The King's favorite food!") Peanut butter and banana sandwiches, I have been down with for a long time. Grilling that sandwich, welp, nobody lives forever. Add bacon to that same sandwich and it seems like a miracle that Elvis even made it to the age of 42.
Salon says that the PBBB may have been created by "Elvis' longtime cook and maid Pauline Nicholson, who called him Mr. P. and worked for him from 1964 till he died." Another one of Elvis' cooks sadly noted, "The only thing in life he got any enjoyment out of was eating." Kind of helps explain this extravagant concoction. But is the excess worth it?
After crafting it at home, I have to say yes. No, it's not about to knock the BLT off the top of my favorite bacon sandwiches list. But Elvis and his kitchen staff were definitely on to something with the inspired combo of salty and sweet, and textures both crunchy and smooth. Warmed-up banana is a surprisingly almost perfect fodder for crispy bacon, with the peanut butter functioning as a binding agent. You can see why the peanut-butter-bacon-banana trifecta has also been utilized in "Elvis"-branded everything from pancakes to ice cream.

Since it's near impossible to butter a piece of bread on one side and smooth peanut butter on the other, there's a simple way to make this sandwich that even uses up that delicious bacon fat. If you like your arteries unclogged, you probably wouldn't want to make this a daily lunch special. But to give a toast to Elvis this week (possibly alongside a viewing of impressive new documentary The King, or maybe a rewatch of King Creole), there's no sandwich more appropriate.
---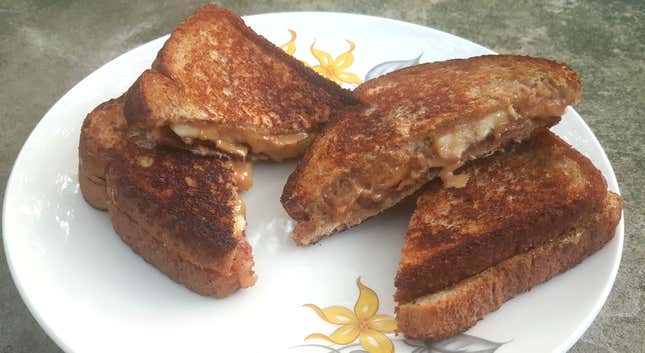 Elvis' Grilled Peanut Butter-Banana-Bacon Sandwich
2 slices white sandwichbread

4 strips bacon

2 Tbsp. peanut butter
1 banana, sliced

Fry bacon in pan. When done, remove bacon but keep bacon grease in pan. Spread peanut butter on both slices of bread and place these peanut butter-side up in pan. Add banana coins and bacon on one piece of bread. When both slices of bread are sufficiently toasted, flip one piece of toast onto the open-faced sandwich, and press down. Flip the whole sandwich one last time and press down, ideally, until the peanut butter oozes. Remove from heat, cut into triangles, and enjoy.