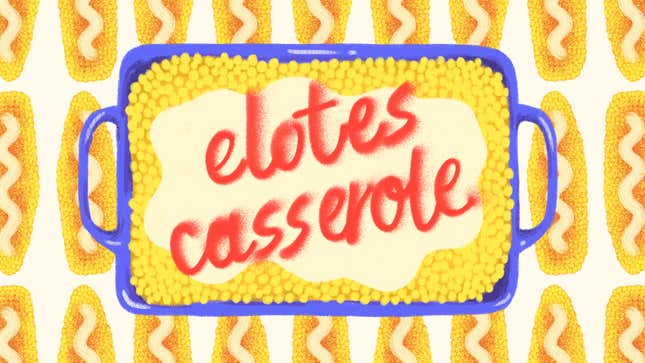 Elotes is the Mexican street snack that celebrates the height of sweet corn season. Whole ears of freshly steamed or grilled corn are slathered with mayonnaise, rolled in cotija cheese, sprinkled with spicy chili powder, and served with a wedge of lime. It's a beautiful balance of sweet crunchy corn, creamy mayo, salty cheese, citrusy acid—I'm compelled to call it the perfect summer dish.

How To Dispose Of Cooking Grease The Easy Way After Frying
But what do you do when sweet corn isn't in season? Or when the naturally exuberantly messy nature of the dish isn't appropriate for the type of gathering you are hosting? Enter this elotes-inspired casserole, bringing all the flavor and fun of the original, in a handy potluck-friendly dish that's easy to put together and can be made year-round.

Essentially a corn pudding or spoonbread with some of the classic elotes toppings, this recipe uses canned corn to make it both easy and quick to pull together and unhampered by the short sweet corn season. A perfect side dish for your next barbecue or picnic, it can be served warm or at room temperature. Make the base up to three days ahead, reheat and garnish right before serving.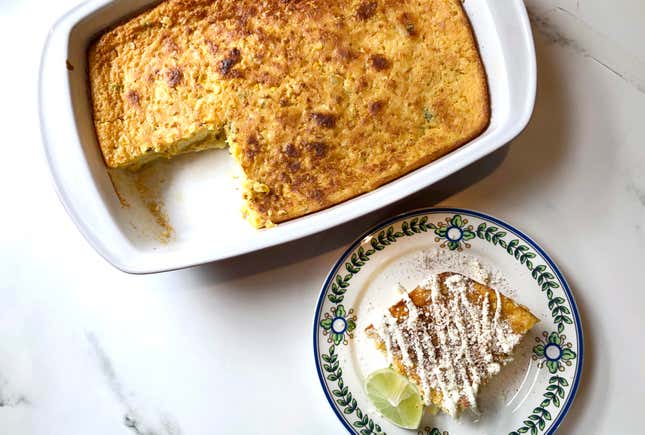 Elotes Casserole
Serves 12-16 as a side dish
2 cans (14 oz.) creamed corn

2 cans (14 oz.) whole kernel corn with jalapeños (do not strain or drain)*

1 pint sour cream

1 stick unsalted butter, melted

2 boxes Jiffy corn muffin mix

2 eggs, beaten

1 cup mayonnaise

Zest of one lime

1 Tbsp. lime juice

Tajin seasoning or chili powder

1 cup grated cotija cheese

Preheat your oven to 350 degrees Fahrenheit. Grease a deep 9-by-13-inch casserole dish with butter or nonstick spray.

In a large mixing bowl, mix the cans of creamed corn and whole corn (remember, don't discard the juices!) with the sour cream, and stir to blend well. Add the melted butter and stir to combine. Once the mixture is smooth, stir in the eggs, then the boxes of corn muffin mix. Pour the batter into the baking dish and bake 45-60 minutes until golden brown on the edges and a skewer in the center comes out clean. Let cool on a rack for 15-20 minutes.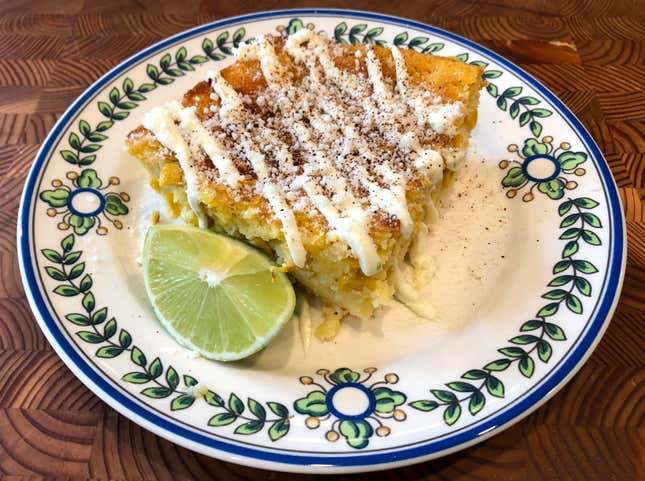 Separately, mix the mayonnaise with the lime juice and zest and season to taste with salt and pepper if needed, and put into a squeeze bottle or ziptop bag.

Just before serving squeeze the lime mayo in squiggles all over the top of the casserole, then add the grated cotija cheese evenly over the top, and sprinkle with the tajin seasoning or chili powder, or set these items on the side for people to garnish themselves. Serve slightly warm or at room temp.

* If you are serving to kids, you can use plain canned corn instead of the jalapeño version so that the casserole isn't spicy