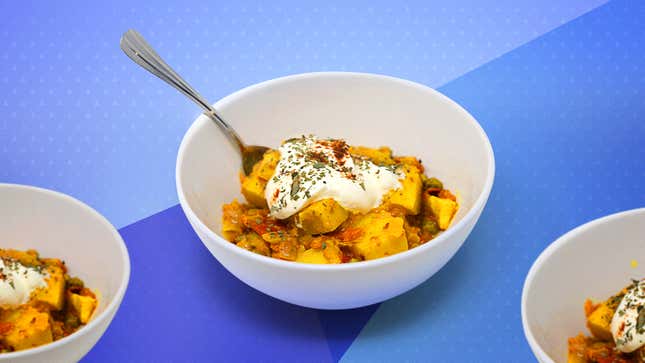 In One-Pan Wonders, we look for easy and delicious weeknight dinners that can be cooked using a single pan. 
All the Best Finds at the Sweets & Snacks Expo
There are some evenings when you just want an easy, delicious comfort food. Meatless? Sure, why not. Crock-pot adaptable? Even better.
I don't even know where I photocopied this recipe from several years ago, residing as it does in a recipe scrapbook an ex's grandma gave me once for Christmas. Nevertheless, I have turned to it numerous times ever since. It is a curry possibly just short of a matter paneer, but my lazy ass doesn't clarify the butter or peel the potatoes or seed the tomatoes. Say it with me: Easy.
This dish is primarily based on butter and potatoes—both ingredients that work very well for me—with the added bonus of peas to get some green veggies in there for the kids. This round, I also threw in some extra paneer that we had in the fridge, and topped with plain yogurt and some garam masala from my husband the spice addict. The heat is primarily provided by the red pepper flakes, so feel free to adjust at will. You could probably also serve this over rice, but that would have pushed us over our one-pan limit.
---
Easy Potato-Pea Curry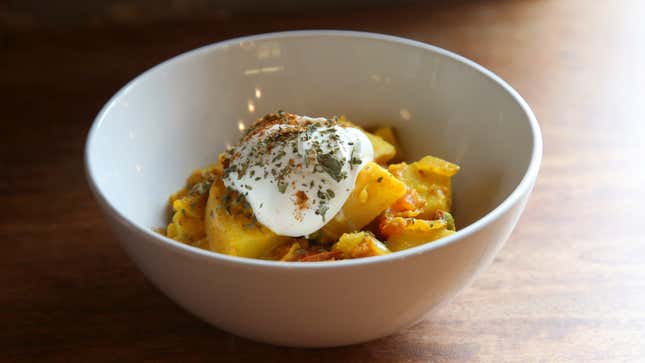 3 large baking potatoes, cut into 1/2-inch cubes

1/2 cup butter

1 large onion, chopped

1 Tbsp. pureed or minced garlic

1 Tbsp. pureed or minced ginger

2 1/2 Tbsp. ground cumin

1 tsp. turmeric

1/2 Tbsp. ground coriander

1/2 Tbsp. dried red pepper flakes

3 tomatoes, diced

1 cup water

1 Tbsp. salt

2 cups frozen peas

1 Tbsp. brown sugar

1/4 cup fresh lime juice (about three limes' worth)

Place the cubed potatoes in a bowl and rinse with cold water to remove excess starch.
Heat butter in large saucepan or stockpot and sauté onion, garlic, and ginger until aromas are released and onions are translucent. Add potatoes and cook 10 minutes, stirring constantly. Then add tomatoes, rest of spices, water, and salt.
Simmer covered until potatoes are soft, about 20 minutes. Then add the peas, brown sugar, and lime juice until everything is heated through. Adjust seasonings to taste.
Even easier: Throw this in the Crock-Pot in the morning with the onions sautéed with garlic and ginger, along with the potatoes, tomatoes, water, and spices, adding the peas, lime juice, and brown sugar at the very end. You will come home to an amazing-smelling house, with your weeknight dinner already conquered.