In One-Pan Wonders, we look for easy and delicious weeknight dinners that can be cooked using a single pan. 
If you're in a long-term relationship, remember all the stuff you used to do for your partner at the beginning? Making sure you stocked their favorite brand of toothpaste, or furiously scrubbing the house before they came over (even though they weren't really judging your housekeeping skills). I was so besotted with the man who became my eventual husband, it might have been 18 months into our relationship before he finally saw me without mascara. I knew, almost from the beginning, that this relationship was a big deal—we'll be married 15 years next May.
So, in the first few months of our relationship, when Brian came down with a bad cold, I kicked into high gear. I am a nurturer by nature (ask any of my co-workers who occasionally get pummeled by my maternal instincts) and I figured that this was the time to let this person know that I could take care of him. I know, it sounds like Misery, but it was actually much nicer than that.
So I set him up on my couch, with Kleenex, blankets, and a DVD of Ocean's 11. Then I grabbed the Baker Memorial United Methodist Church cookbook I had received long ago from a co-worker to see what the church ladies in St. Charles, Illinois, had to offer. As with most church cookbooks, I was not disappointed: I soon spied an uncredited recipe for "Chili-Chasing Corn Chowder." I think that was a typo for "Chill," but at any rate, it was an almost completely beige recipe, with things I loved like potatoes, corn, and sour cream. There were at least four or five corn chowder recipes in that cookbook, but this one appealed to me the most, maybe because of that adorable typo. I made it that day for the first of dozens of times. A few shots of hot sauce helped clear my beloved's sinuses, and we snuggled in to watch George Clooney and co. I'm not saying he married me for my corn chowder, but… just check out that anniversary date.
Since then, this soup has been a go-to for me. Since I usually have most of this stuff in my kitchen somewhere (potatoes, frozen corn), it's an easy dinner when I'm out of everything else. I served it as a vegetarian option (swapping veggie broth in for chicken broth) for my book club. I even make it in the summer in the slow-cooker when I don't want to turn on the oven. My daughter, a lover of beige food, adores it (I guess it's hereditary). We're entering cold and flu season, so take it from me: Making corn chowder is a great way to let an ailing someone know how much you care about them.
G/O Media may get a commission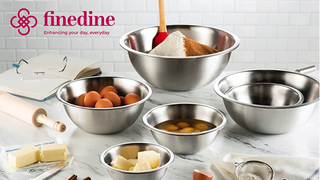 42% Off
Stainless Steel Mixing Bowls (Set of 6)
---
Chill-Chasing Corn Chowder
1 Tbsp. bacon grease, olive oil, or canola oil

1 medium onion, peeled and chopped

2 stalks celery, strings removed and chopped

3/4 cup sweet green pepper, cored and chopped
1/3 cup all-purpose flour

1 quart low-sodium chicken broth

1 1/2 cups (1 lb.) frozen extra sweet corn kernels, divided in two

3 cups (1 lb.) diced potatoes

Bay leaf

1 12 oz. can evaporated milk

1/2 cup sour cream

Salt and pepper to taste

1/2 tsp. Tabasco sauce

1/3 tsp. Worcestershire sauce

2 Tbsp. chopped parsley leaves for garnish

Add the bacon grease to a Dutch oven and place over medium heat. When the grease is hot, add the onion, celery, and peppers; cook, stirring occasionally for 7 to 8 minutes, or until soft. Add the flour and cook for 4 minutes, stirring often. Using a wire whisk, whisk in the chicken broth and whip out any flour lumps until smooth. Reduce heat to low and simmer for 15 minutes.
While the soup is simmering, puree half the corn in a food processor. Add the pureed corn, remaining corn kernels, potatoes, and bay leaf to the sauce pan and simmer until the potatoes are tender, about 15 minutes. Stir in the evaporated milk, sour cream, and salt, pepper, Worcestershire sauce, and Tabasco. Remove the bay leaf.
Cook until hot, but do not boil. Serve immediately sprinkled with snipped parsley.