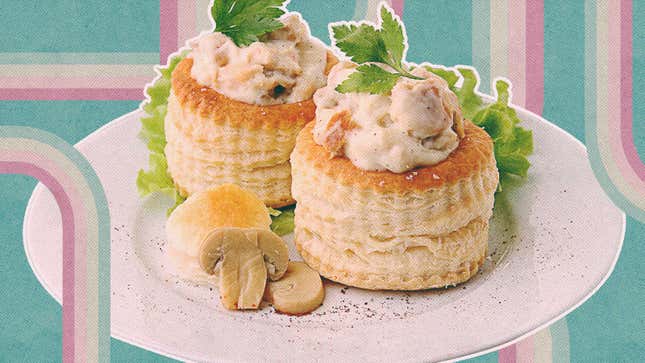 Chicken stew on toast, however delicious, lacks sophistication. Now pour that stew into an elegant edible vessel? Thrilling. Crisp. Like a golden chalice of cream sauce. Now that's downright ladylike. The good news is even if you're not feeling particularly ladylike, this dish is scrumptious to all manner of persons. Meet Chicken à la King—a dish so old, it's new again.

All the Best Finds at the Sweets & Snacks Expo
According to The Oxford Companion to American Food and Drink, Chicken à la King was not made for royalty, but rather the lunch set of Philadelphia's fashionable Bellevue Hotel in the early 1900s. William King, a cook at the hotel, created the version that became his namesake, a dish that included truffle, red and green peppers. It was particularly appealing to the ladies who frequented the tea room, seen as a dainty dish "that didn't require a knife to eat." Little did they know it contained about as many calories as a large cheeseburger.
My great-grandmother was a renowned family cook, who had attended The Antoinette Pope School of Fancy Cookery in Chicago. (Fun fact: Pope only charged 75 cents per class when she opened in 1930.) My great-grandmother's chicken creaming skills filtered down through her culinary education to my grandmother's dinner plate. And it stuck. After some tweaks, Chicken à la King became the default "fancy" dish made for Dwyer-family wedding buffets, elegant lunches, even the occasional Easter.
This recipe call for puff pastry shells, a nod to French pastry vol-au-vent: whisper-thin pastry cases used to contain rich bites of meats and creamed things. To me, they are a requirement to enjoying Chicken à la King, at least the first time around. The second day (when you're out of shells) you're allowed to go for a thick slice of toasted white bread. As kids, we would watch in awe as the pastry shells—or "nests" as they were marketed to us—emerged from the oven, tall, golden and flaky. My sister and I managed to denude nest after nest of their small golden hats before we got caught.
The appearance of Chicken à la King is important: tender white meat chicken, silky white sauce, bright accent vegetables. No unsightly brown and grey bits of dark meat, nor even black pepper flakes, are allowed to besmirch the creamy whiteness. If you have it and you like it, use white pepper. Green peas add a fresh, sweet snap and pimentos add a subtle piquancy to the sauce. Drain those suckers well—we don't want a pink tinted final dish, please.
Poaching in broth infused with carrot, celery, onion, peppercorn and thyme saves the chicken breast from being dry and flavorless. Bonus: You'll end up with tasty leftover stock, which can be chilled and frozen for soupy emergencies.

Thickening with egg yolks became outmoded, when eggs were deemed pariahs for selfishly inflicting their cholesterol on our unwitting population. Now that yolks are cool again, I say bring them back as a thickener. I'll take my Vitamin D, lipids, and choline from yolks over canned soup goo any day.
So go ahead and make a fancy lunch for your friends. Make them my Chicken à la King, and put your best chicken foot forward.
---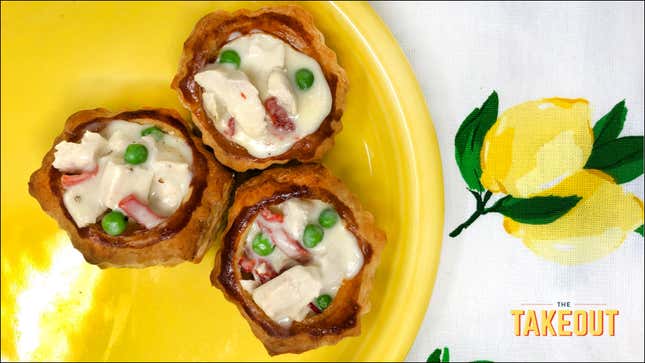 My Chicken à la King

1 package of Puff Pastry Shells (6 count), baked according to package instructions

For the chicken and poaching liquid:
3 boneless skinless chicken breasts

1 bouillon cube or 4 cups chicken broth

1 small stalk celery, chopped in large chunks

1 small carrot, chopped in large chunks

1 wedge of onion, skinned

A few peppercorns or grinds of fresh pepper

A few thyme sprigs

Salt to taste

For the cream sauce:
1 stick of butter

1/3 cup flour

1 1/2 cup whole or 2-percent milk

2 1/2 cups of reserved chicken poaching liquid

2 small jars of pimentos (2 oz. each), well drained

1 cup of frozen peas

2 egg yolks

1/2 cup heavy cream

Salt to taste
Ground white pepper (optional)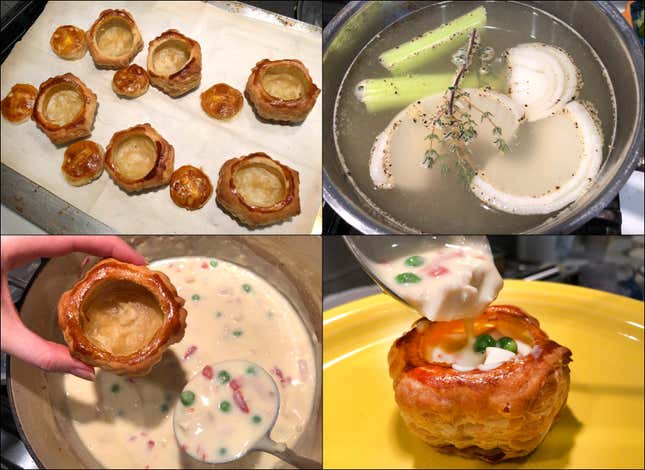 Bring four cups of broth (or water with chicken bouillon cube added) to a simmer in a wide shallow pot with the lid. Add celery, carrots, onion, salt, pepper, and thyme and simmer for 10-15 minutes. Add chicken breasts, cover and reduce heat to very low. After 15 minutes, check to see if chicken is cooked through, and remove the breasts from the broth. Continue cooking for another five minutes if chicken is not quite done yet.

Strain the broth and set aside 2 1/2 cups for your cream sauce. Discard the solids.
Melt one stick of butter in a Dutch oven over medium heat, then whisk in flour. Whisk thoroughly to combine, then let the mixture cook for 2-3 minutes, whisking occasionally. Pour in milk and broth, and whisk to incorporate, making sure to whisk in any flour from the sides of the pan. Let cook for 3-4 minutes until thickened. Reduced the heat to keep the mixture warm.
In a bowl, combine the egg yolks and heavy cream, then slowly stir in 1/3 cup of the hot milk-broth mixture, mixing well. Pour this mixture back into your pot with the broth and whisk quickly to combine. This step will prevent the yolks from curdling.
Cube your cooked chicken into bite-sized pieces. Add chicken, pimentos, and peas to the broth mixture and stir, letting everything warm through. Taste and season with salt, adding a pinch of ground white pepper if desired.

Ladle the Chicken à la King into your waiting nests. Et Voila!