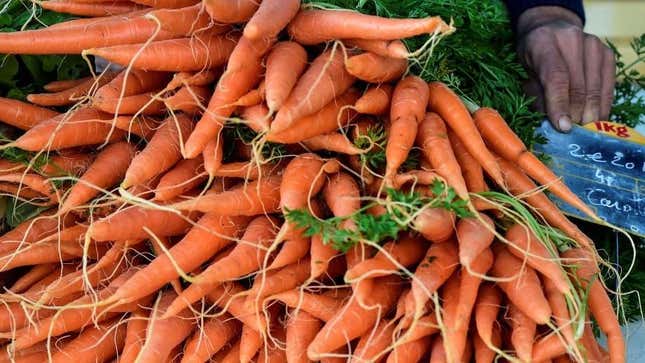 Ah, the inevitable weakness of man. Even muscled-up, grass-flinging, marathon-sprinting Swedish soccer players have their downfall. For Swedish soccer star Rami Kaib, that downfall was a particularly crunchy carrot, which reportedly injured Kaib's jaw during a sideline snacking session.

All the Best Finds at the Sweets & Snacks Expo
The Sun translated a report from Dutch news outlet RTV Noord, which states that the soccer player has been "ruled out of action for weeks after breaking his jaw eating a carrot." Kaib, 24, was born in Sweden but plays as a left-back for Dutch club SC Heerenveen, and he had reportedly already "taken a knock" during a routine league match. Reporter Roelof de Vries told RTV Noord, "Kaib got a big knock on his jaw during a game a while ago." Per de Vries, by the time Kaib jogged over to the sideline for a quick snack break, his jaw was compromised. "Well, he ate a carrot and that carrot was quite hard," de Vries reports. "And then, crack—broken jaw. A carrot!"
Kaib will now have to hang out on the sidelines until the fracture heals. As The Sun reports, this is far from the first time a soccer star has racked up a mealtime casualty. For example, English former goalkeeper Dave Beasant once dropped a bottle of salad cream (not to be confused with mayonnaise) in his kitchen, and the broken bottle tore into a tendon in his big toe. Still, this may be the first time a professional athlete has sustained such a severe injury while trying to eat their vegetables. A carrot certainly seems like a safe mid-game snack, but it makes sense how a crunchy veggie could prove disastrous for an already damaged jawbone. Regardless, here's hoping Kaib's SC Heerenveen teammates stick to orange slices and pudding cups from here on out.