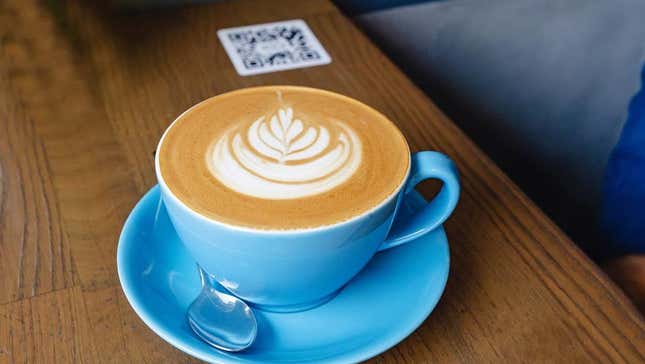 The ebb and flow of the restaurant industry is what we live for here at The Takeout, and not many trends demonstrate those ups and downs better than the use of QR code menus in restaurants. The New York Times tackled the thorny issue this week, highlighting just how split customers and restaurant operators are about this paperless digital solution.

All the Best Finds at the Sweets & Snacks Expo
Why QR code menus are good for restaurants and customers
On the one hand, in the initial months of the pandemic, QR codes served the purpose of allowing customers to access a restaurant menu without having to pick up a physical copy that was touched by previous diners. This sanitary solution seemed so well-suited to the needs of the business and customers at the time that it was hard to imagine a world in which we actually needed paper menus at all.
QR code menus have a number of other benefits that signal the technology might be here to stay. For restaurant operators, menu updates can be made quickly and for much cheaper than full reprints of a physical menu. For customers, some QR code services like Beaconstac or MyMenu offer additional features like the option to display the menu in one's preferred language, the ability to order and pay for a meal from one's smartphone, and automatic toggling between the breakfast, lunch, and dinner menu depending on the time of day.
These specific benefits are why the QR menus continue to be used frequently at cafes, beer gardens, and other casual establishments where speedy ordering and payment is the priority, as Kristen Hawley, founder of restaurant technology newsletter Expedite, explained to The New York Times. Additionally, Benjamin Claeys CEO of QR software provider Menu Tiger, told the Times that QR codes allowing customers to both order and pay their bill without the assistance of a server are becoming more popular. Menu Tiger saw a 37.6% growth in restaurants signing up for and using Menu Tiger from Q4 2022 to Q1 2023.
"Our own customer data says QR-code menus are here to stay," Claeys told the Times.

The downside of QR code menus at restaurants
At the same time, as with any technology, there are some drawbacks. Both customers and restaurant operators say that having cell phones sitting out on the table can ruin the dining experience. There is also a population of diners for whom smartphones aren't readily accessible, such as those with particular disabilities, the elderly, or the simply tech-averse. Since restaurants have to cater to the needs of a broad range of diners, QR menus can never fully replace paper menus.
Digital menus might also be leaving some money on the table. The president of a company that designs and prints restaurant menus told the Times that check sizes had increased for clients who switched back to paper menus following peak pandemic restrictions, and that people are less likely to order expensive items via their phone than when perusing a physical menu and placing an order with a human server.
So what is to be the fate of the QR code menu? Based on the mixed feedback from restaurants, customers, and industry insiders, it seems like the surest bet is a hybrid system in which QR codes and paper menus coexist to benefit everyone.