How Do You Take Yours?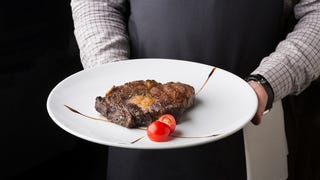 How Do You Take Yours?
In How Do You Take Yours?, The Takeout solicits staff and outside expertise for secret tips on improving one dish.
As the leaves fall, and the days get shorter, and the big Thanksgiving Day dinner approaches, we find ourselves turning toward a cozier menu. Soups, stews, and yes, a multitude of gourds are available. Sure, you'll have some pumpkin pie in a few weeks, and we've already offered you our favorite squash casserole. But how else can you roast, cube, and mash that magnificent pumpkin to autumn spice up your own season (and seasonings)? We asked some chefs and our staff for their favorite and unusual pumpkin dishes.
---
Pumpkin Mac-And-Cheese
Say what you will about Rachael Ray, but there was a time when I watched her 30 Minute Meals show on the Food Network devotedly, just looking for easy and quick weeknight dinners. There's a recipe of hers that I picked up then and have used ever since: her butternut squash with mac-and-cheese. You can easily use any gourd in it, especially pumpkin. The pumpkin adds a lovely richness that elevates this traditional dish—I've even served it at Christmas. Rachael being Rachael, she suggests frozen squash, but pumpkins and the like are easy to cut in half, scoop out seeds, and roast. The roasted pumpkin is then even easier to add to Ray's sauce, making for a truly exceptional mac and cheese.—Gwen Ihnat, deputy managing editor, The Takeout
Guacamole
When it comes to guacamole, pumpkin seed isn't super common. What we love to do, in addition to sprinkle them on top, is to puree roasted pumpkin seeds into the consistency of peanut butter and add it to guacamole. It adds this deep and rich nuttiness—it's one of my favorites. You don't need a lot: If you're using say three avocados, just puree between 1/3 and 1/4 cup of roasted pumpkin seeds. (I encourage people to use the hulless pumpkin seeds.) —Rick Bayless, Bar Sótano, Chicago
G/O Media may get a commission
Smoked Chicken Pumpkin Enchiladas
The current dinner special at Greenhouse Craft Food is one that I create every year: Smoked Chicken Pumpkin Enchiladas with refried black beans. I roast whole pumpkins and put the puree in both the enchiladas and the sauce. —Todd Engel, Greenhouse Craft Food, Round Rock, Texas 
Cheesecake with Calabaza En Tacha
We have an excellent pumpkin cheesecake with calabaza en tacha (a Mexican spiced poached diced pumpkin) on the menu right now. This dessert embraces contemporary flavors and ingredients inspired by the boldness and bounty of Mexico with a fall twist. While cheesecake is a beloved, well-known dessert in Mexico, calabaza en tacha is pumpkin slowly simmered in a piloncillo (a raw sugar widely used in Mexico) syrup often infused also with sweet spices. We are infusing our liquid with Mexican cinnamon (canela), orange peel, allspice, clove, and black pepper. The base includes a puree of the calabaza en tacha over a shortbread crust, with a thin layer of slightly-sweetened sour cream on top. —Jennifer Jones Enyart, pastry chef and co-owner, Dos Urban Cantina, Chicago
Curry-Pumpkin Soup
I made this soup for Thanksgiving with my then-boyfriend's family years ago. We broke up, but his aunt emailed me this year to ask for the recipe anyway. That's how good it is. It starts with a 16-ounce can of pumpkin, to which you add some half and half, chicken broth, curry powder, and a garnish of sour cream and chives. Super simple, but pumpkin and curry are a memorable duo. —Kate Bernot, associate editor, The Takeout
Pumpkin Milkshake
Our popular pumpkin milkshake needs a scoop of actual pumpkin, not just pumpkin pie spices, but the canned stuff is fine to use. Blend that with sugar, molasses, pumpkin pie spice, and some ice cream, then add crumbled pumpkin pie bits if you have them. —Eddie Lakin, Edzo's Burger Shop, Evanston, Illinois
Pumpkin Chili
The way other people feel about thick socks, falling leaves, and seasonal lattes, I feel about hearty soups and stews. Once it's October (and especially once it's November), just keep 'em coming. I could sustain myself on nothing else. Chief among my favorite such meals is a good pumpkin chili, one of the best savory pumpkin dishes out there. Some recipes call for pumpkin purée as a substitute for tomatoes, but I prefer those variations that include both, as well as chipotle peppers in adobo, some ginger, nutmeg, allspice, and a little cinnamon. It works with ground beef, turkey, chicken, pork, and in a meat-free, extra-beans situation. It's cozy and hearty and extremely autumnal—just add it to whatever chili recipe is your favorite. Next time I make it, which is now tonight because I'm suddenly starving, I'll try adding some hard apple cider to the pot as it simmers. Just go full fall, you know what I mean? If I'm going to do the thing, I may as well lean in.—Allison Shoemaker, contributor, The Takeout