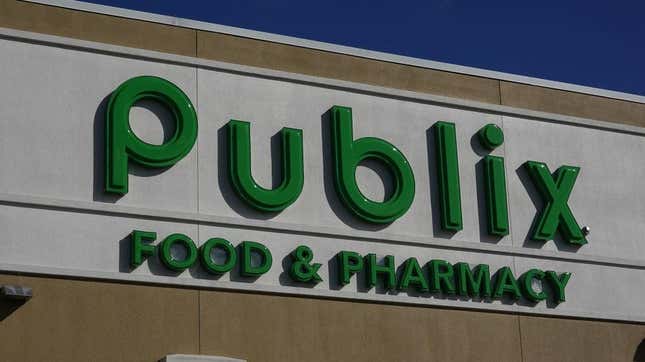 Hurricane season 2023 has arrived, and while the rest of the country warily eyes The Weather Channel for news out of the American Southeast, the people who actually live in "hurricane alley" are also eyeing the gaping hole on their hurricane party tables. Florida-based grocery chain Publix has decided to stop baking or selling its popular—and divisive—hurricane-themed cakes this year.
How To Dispose Of Cooking Grease The Easy Way After Frying
Despite going viral in past years for its storm-themed confections, which typically depict the state of Florida with an impending storm spiral and text along the lines of "Leave Florida Alone," Publix has decided that after the mass destruction of Hurricane Ian in 2022, making fun of natural disasters is perhaps... in bad taste. In a statement to Orlando's News 6, the company said that it doesn't want to minimize natural disasters.
"Our associates make every effort to support our customers during weather events," the statement read in part. "Oftentimes, this includes finding ways to delight them with their favorite Publix items as they prepare for uncertainty. For these requests in particular, it is our company policy to not produce bakery cakes that would make light of a natural disaster."
For folks who live in storm country, this might actually come as unwelcome news. So-called hurricane parties, originally conceived as a means to pool resources during a storm when the power could go out for days, are a southeast staple for anyone looking to ride out a storm (there's even a Wikipedia page on the subject). The idea is to empty the fridge of anything perishable, gather at the home with the safest roof, and huddle together until the it's all over—often with a sizable stash of snacks and booze. Like any special occasion, it's always good to have cake.
Poking a little fun at the storm is usually all a part of the act, and Publix got in on the fun in 2019 with a Dorian-themed cookie cake. The hurricane cake showed up again last year for Hurricane Ian. However, after the category 4 storm ripped through the state causing 100 deaths and $112 billion in damage (per the National Hurricane Center), the joke seems to have fallen flat.
If you're in the Sunshine State and the loss of Publix hurricane cakes is hitting you like a gale force wind you can always try your luck with a special order at Winn-Dixie. Like Publix, the Jacksonville chain is Florida-based, so the bakery staff might be sympathetic, and so far Winn-Dixie hasn't issued any public statement about storm-themed cakes. Otherwise, you'll have to either embrace a cake-free party or try baking your own; you've got from now until November 30 (the official end of the storm season) to get your Florida frosting design skills up to par. Regardless, always keep an eye on the forecast this time of year, or consult with the experts at Waffle House if you're not sure about a storm's severity, and plan accordingly.