In September, a JD Power study identified Philadelphia International Airport as one of the worst in the country (but really, when is the last time you thought, "Ooh, an airport, love those"?) The dissatisfaction of the weary travels who trudge PIA's halls may have been what prompted Popeyes, purveyor of fried chicken and catchy jingles, to offer this particularly silly, moderately soothing marketing gimmick in that airport and that airport only.
Meet the "Emotional Support Chicken."
To make something perfectly clear, this is just a goofy carrier for a 3-piece chicken tenders combo, available only at the Popeyes Louisiana Kitchen in Philadelphia International Airport's Terminal C. Yes, you have to buy the meal to get one. The carriers will start making their way into the world today, and will be available while supplies last. These cardboard thingies do not actually provide emotional support in a traditional sense. But I would argue that there is a real upside to something this dopey and dad-jokey in this, the nuttiest travel month of the year. More on that momentarily.
First, a word from Popeyes: The idea for "Emotional Support Chicken" came from various stories and anecdotes about travelers who take really big swings when it comes to classifying an animal as "emotional support," thus allowing them travel with the animal on board. (Examples: peacock, tarantula, squirrel.) In a press release, the chain stressed that most emotional support animals "provide comfort and companionship, especially during a highly stressful time like air travel," but figured it could make a play in this arena:
After seeing this, Popeyes decided to offer its own version of "emotional support animals pushing the envelope" by offering travelers "Emotional Support Chicken," a gesture designed to bring holiday travelers some needed humor to what is one of the most stressful places to be during the holidays—the airport.
G/O Media may get a commission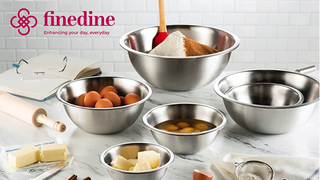 42% Off
Stainless Steel Mixing Bowls (Set of 6)
Yes, this is just a gimmick; yes, it is just a cardboard container for fast food; yes, it is only available in one airport. I don't care. Popeyes is not wrong—flying is extremely stressful, and can be especially so for people who live with anxiety disorders (like me). There are lots of ways people can attempt to defuse their own anxious feelings and the surge of adrenaline that can accompany those feelings. For me, changes in temperature often help, so I'll drink cold water or hot tea (without caffeine), or splash cold water on my face, or find a window that's cold. A relatively meaningless activity, like standing in line at a Popeyes, can also help. And while it's not a particularly healthy habit, I also tend to gravitate toward comfort food when I'm anxious (but not severely—my body pretty much stops wanting anything when things are particularly rough). And last but not least, levity often helps. (I'm flying tomorrow, send jokes.)
This silly, dorky gimmick checks several of those boxes.
Anyway, because Popeyes "Emotional Support Chicken" is dead and has been deep-fried, you should have no trouble getting it on board, and it's far less likely to disturb other passengers than an emotional support peacock. Or, as Popeyes puts it in that press release: "This Emotional Support Chicken is permitted to fly without any restrictions."