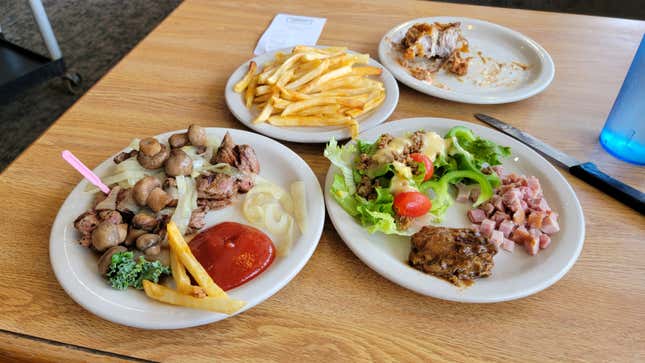 The era of the bottomless buffet is past. Old Country Buffet is dead, and a visit to Golden Corral is perhaps better left to those actively seeking death. But not too long ago, there was another all-you-can eat chain that loomed like a tall pine over the national scene: Ponderosa Steakhouse.

How To Dispose Of Cooking Grease The Easy Way After Frying
"Happiness unlimited," proclaims its website, and "freedom by the plateful." These statements perfectly embody my memories of Ponderosa as a rural Midwestern child. Not only was I able to order a steak or cheeseburger, but I also was treated to an endless array of chicken, sweets, side dishes, pizza, and ice cream. There was even a bottomless salad bar, where I'd fill up on bowls of ham cubes.
Fast forward to 2023. While many of its buffet rivals lay empty, their tongs bleaching in the sun, the name Ponderosa still holds sway 'round these parts. There's only one location left here in Wisconsin, and only one in Illinois as well. Every few years or so, I pay it a visit. Here's how the restaurant is faring in the current decade.

What is Ponderosa Steakhouse? 
Folks in the '60s loved westerns, and the genesis of Ponderosa is inextricably linked another classic name: Bonanza. The first Bonanza Steakhouse (founded by Dan Blocker, a star of the Bonanza television show) opened its doors in 1963. The company was sold a few years later, just after the very first Ponderosa (named for the fictional ranch from Bonanza) fired up its grills. The two engaged in a steakhouse range war for the next twenty-odd years, until the tail end of the '80s. Both franchises were snapped up by Metromedia Restaurant Group, which also owned such bygone eateries as Bennigan's and Steak and Ale. In the early '90s, there were almost 700 Ponderosa Steakhouses operating throughout the US and abroad.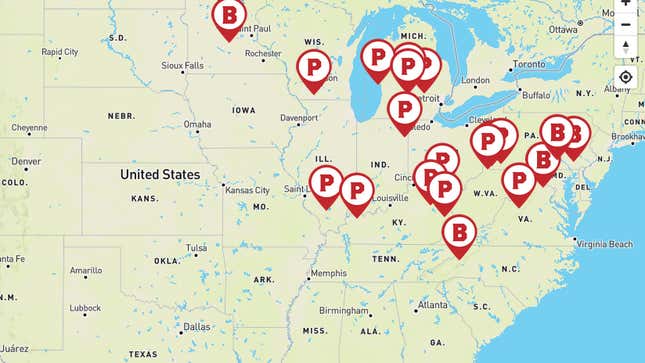 It was a good time to run a buffet. But time wilts all lettuce, and once the new millennium hit, the number of locations had dwindled to less than half. Throw in a few economic crises and a global pandemic, and there are now fewer than two dozen Ponderosas and Bonanza locations combined nationwide. Wikipedia has conflicting numbers (either 22 or 17 in the US), while the company's website lists only 21, three of which are labeled as "Temporarily Closed."
Look, Old Country Buffet was what it was. But how did Golden Corral, another similarly themed buffet giant, surpass the salad-bar vets? Perhaps the advertising was to blame, as Ponderosa's commercials weren't particularly memorable. They range from bland to mildly terrifying, and some haven't aged very well (yay, public marital discord, and keep your backside away from the silverware!).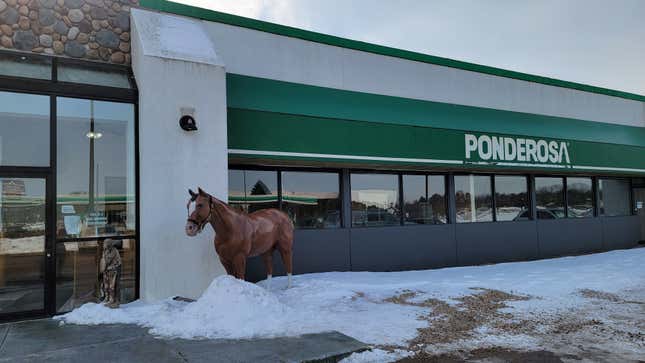 How has Wisconsin's lone Ponderosa Steakhouse survived?
As the realtor crowd likes to say, "Location, location, location." And if you were going to pick a spot for a successful buffet, there's no better place than the Wisconsin Dells.
Positioned along I-90/94, this city is known for its rollercoasters, motorized duck tours, and abundance of shops and dining. It bills itself as "The Waterpark Capital of the World," with themed venues both indoor and out. Some of these are attached to hotels, such as the Great Wolf Lodge or Kalahari Resort. And positioned within a stone's throw of the major parks and lodging, the last Ponderosa Steakhouse in Wisconsin operates in the shadow of the water slides.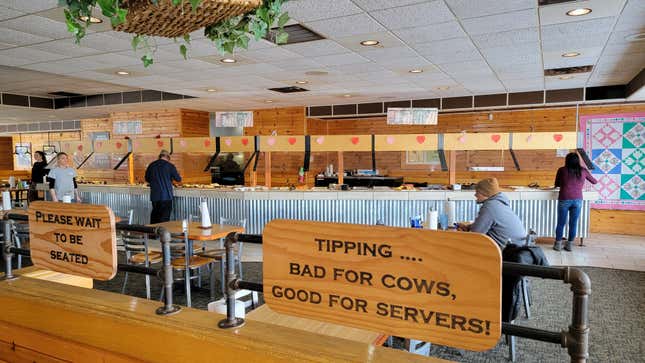 Well, not literally. But it's nearly next door to several of the big convention centers, and just off the Veterans Memorial Highway. This proximity, I'd wager, is the key to the venue's success: After you've blown out your kneecaps and patience chasing the kids up and down Medusa's Slidewheel, you want something convenient, crowd-pleasing, and budget-friendly. Ponderosa delivers on all three.

Ponderosa's all-you-can-eat buffet is a pleasant surprise
I pulled into the lot of my personal buffet Mecca just before noon on a Sunday. After perusing the menu board and nearly tripping over a sugar-drunk toddler who'd broken away from his parents, I made my way to a booth.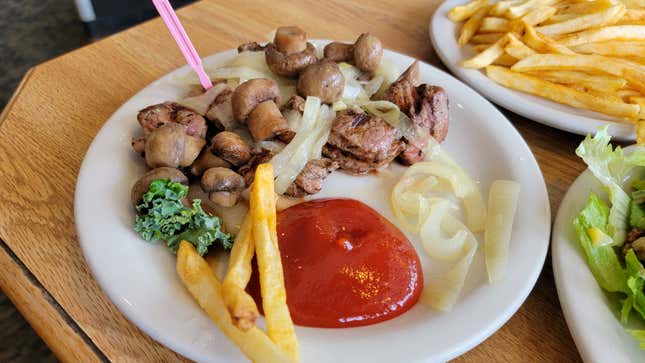 Let's start with the bad. I'd eaten a very good steak the night prior to my visit, so I opted for the sirloin tips as my entrée. This was a mistake. I should have leaned into the nostalgia and ordered the chopped steak I recalled from childhood; I'm sure it would have been tastier than the plate of beef chunks I received, which were so tough and chewy as to be almost inedible.
Shame on me for going against my instincts, but shame on Ponderosa for sullying its own good name. The onions lacked color and flavor, and the half-decent mushrooms were the best part of the plate. The fries were cold and limp, but were saved by their coating of seasoned salt.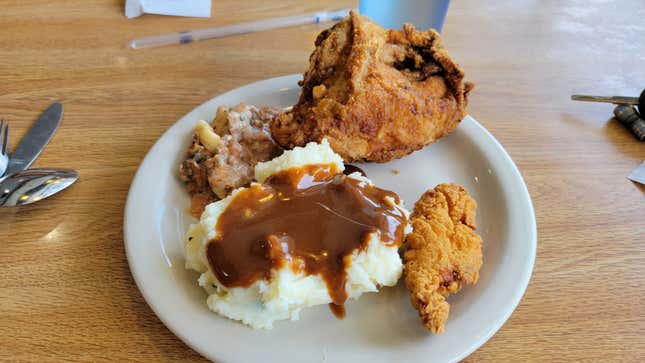 Surprisingly, this is where my complaints end. Even before the offending entrée arrived, I'd put away a plate of fried chicken, baked pasta, and mashed potatoes with gravy. The breast was juicy, the gravy was salty and brown, and even the pasta had a better-than-lunchroom texture and flavor. Plus, I'd seen what the rest of the buffet had to offer. So, after powering through a few of the tips, I headed back for another plate.

The rest of the meal was on point: pot roast, steamed vegetables, and a fresh and colorful salad bar. When I passed the taco station and decided to turn my lettuce and peppers into a ground beef salad with queso, who was going to stop me? Even the pizza, which looks frankly unappetizing, was an unexpected, tomato-rich hit. When I say that it tasted like the after-school pies in every mid-'90s shopping mall, I mean that in the most positive sense.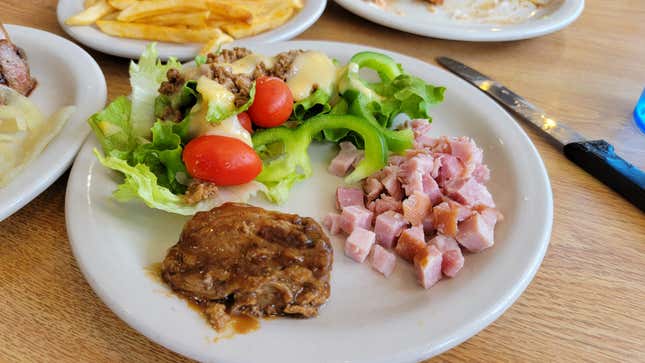 As to my beloved ham cubes, well… I've handled a lot of deli meats in the years since the Ponderosa closed in my hometown, so I know what a good ham looks like. To my delight, the quality of the cubes was vastly better than I remembered or expected.
There was only one thing missing: the ice cream machine and Sunday bar. I settled for a chocolate brownie instead, and there were other sweet options available. But according to a close friend (and certified Ponderosa aficionado), "You can still get the ice cream. You just have to ask for it now."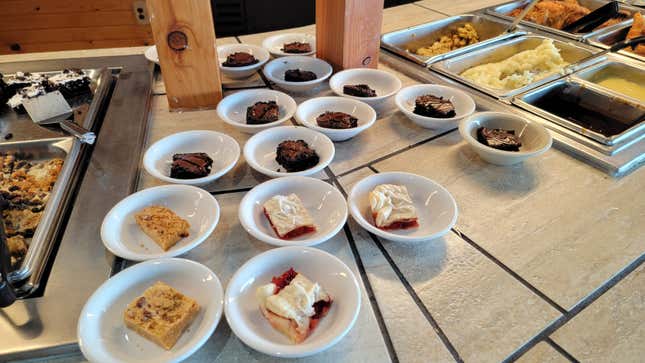 The Ponderosa experience is not for everyone
In the end, I walked (just barely) out of Ponderosa with such a surplus of calories that I was not hungry for supper, nor breakfast the following day. I wasn't sick or anything. Just full of tasty memories.

There are a few things you should know before planning your Ponderosa pilgrimage. First, the hours of operation. As of now, the Wisconsin Dells location is only open on Fridays, Saturdays, and Sundays. But according to my server, the venue is preparing to be open on weekdays once spring break hits, and will add more hours during the summer rush.

Then, there's the overall atmosphere and décor. The interior of the Dells location was clean, but the booths and facilities are definitely showing their age. You're not going to impress anyone by taking them out to Ponderosa. Unless, of course, they're already among the initiated.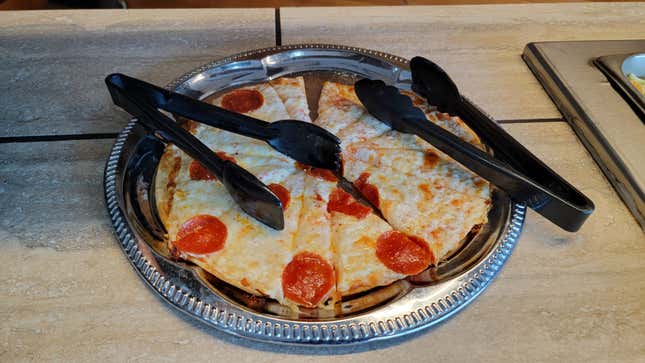 Lastly, there's the nutrition. Salad bar or no, the stars of the buffet are packed with fats and salt. You don't come to Ponderosa to eat well. You come to eat a lot, and to straddle the border of too much.
All this being said, I highly recommend the experience, especially if you grew up on this type of venue. It's like watching Attack of the Clones with your friends while feasting on Pizza Hut and sipping plastic cups full of store-brand cola. Nostalgia isn't a big draw for me, but in this case, I'll make an exception. Thanks, Ponderosa, for keeping the ballad of the buffet alive. I hope to see you again, before the all-you-can-eat dream rides off into the sunset.