There's nothing quite like being a brand ambassador—particularly if it allows you to drive around the country greeting the masses in a giant peanut-shaped vehicle. Planters (of Mr. Peanut fame) recently posted a job listing for three Planters Brand Peanutters, a role "for those wanting a crack at their next nutty adventure."
The one-year paid position begins in June, and interested applicants have until February 14 to apply. The chosen Peanutters will ride around the country in the NUTmobile, "a 26-foot-long peanut on wheels," alongside Mr. Peanut himself, promoting the brand and spreading the joy of peanuts across the United States. 
This is the second year Planters is hiring for this position, but the brand is obviously taking its cues from meat producer Oscar Mayer, which has maintained a nearly identical brand ambassador program since 1988. The iconic Wienermobile is not an easily forgotten piece of Americana, and as CNN notes, the tubed meat brand is also currently looking for applicants. Which role suits you best?
Being a Peanutter vs. a Hotdogger
Clearly, Planters is not the first (nor likely the last) to offer college grads the opportunity to earn money while driving a big hunk of food from coast to coast. So, is it better to be a Peanutter or a Hotdogger? Let's compare:
Who can apply?: To be a Peanutter, you must be a "recent college graduate," whereas a Hotdogger must be a graduating college senior. Both brands would prefer applicants with a bachelor's degree in communications, marketing, advertising, public relations, or a related field.
What is the application process?: A standard resume and cover letter submission are asked of both positions, but a Peanutter applicant must also submit a short video explaining why they would be right for the job. Meanwhile, the 2020 Hotdoggers told The Takeout that applicants undergo a rigorous interview process and, once selected, must attend a training program called Hot Dog High.
How many openings are there?: Only three Peanutters are chosen to travel in the NUTmobile, while 12 Hotdoggers team up to drive the Wienermobile.
What skills are required?: In both jobs, you must have a knack for wordplay ("proficiency in nut puns is a must," notes Planters). Virtually every sentence you utter must have a hot dog or peanut pun strategically woven in. You must also have the ability and desire to travel. Peanutters are also required to have a valid driver's license. Although it is not explicitly stated for Hotdoggers, I think we can safely assume the same.

What does the job pay?: Both jobs are described as having a "competitive salary," but that term seems to imply a vast marketplace of novelty vehicle driver positions—competitive with what, exactly? Oscar Mayer provides Hotdoggers with full benefits, including lodging, a meal allowance, and apparel. The Peanutters also receive a full benefits package, lodging, and a meal allowance; a rep for Planters noted that an opportunity for nationwide travel is an additional perk of the job.
What does the job entail?: Both companies' applications go into greater detail about the responsibilities of the positions, but the general idea is that selected applicants would schedule, coordinate, attend media events to promote the brand, as well as make themselves available to local media outlets and find other opportunities to promote the brand at in-person activations and on social media.
G/O Media may get a commission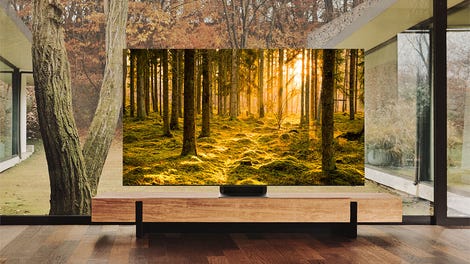 Up to 40% off
Samsung Smart TVs
As a non-driving adult in her mid-20s, I can't take advantage of either of these opportunities. And that's okay with me. The job I'm waiting for is one that doesn't exist yet, inspired by 2004's The SpongeBob Squarepants Movie. SpongeBob's cinematic journey involves driving a motorized hamburger, despite not having a license: "You don't need a license to drive a sandwich," he tells Patrick.
So until the day that Burger King, McDonald's, Wendy's, or any other burger tycoon gets its act together and builds the burger buggy of my dreams, I'll be readying my application materials, pointing people younger than me toward the Planters and Oscar Mayer gigs.