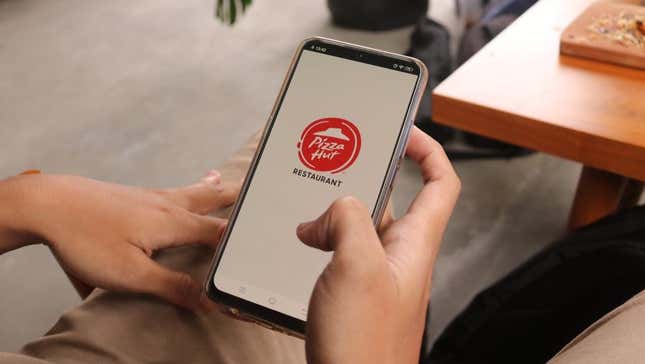 No one likes a needy texter, and it's bad enough when the texts are coming from a human—it's much worse having your phone spammed with marketing messages. Specifically asking a person (or a company) to stop contacting you should be enough to get them to quit it with the texts, but much like a crazy ex, Pizza Hut, according to a recently filed lawsuit, just isn't taking the hint.
How To Dispose Of Cooking Grease The Easy Way After Frying
A class action lawsuit filed in Washington state alleges that Pizza Hut sent marketing text messages to people even after they opted out of receiving them. The filing argues that by not honoring a consumer's choice to opt out of the messages, Pizza Hut is violating the Telephone Consumer Protection Act.
The lawsuit's plaintiff, Danuel Cortez, alleges that he requested Pizza Hut stop contacting him in April 2022. Yet Cortez says he received subsequent text messages from the pizza chain in May and June of that year. Such unsolicited messages, Cortez alleges, "resulted in the invasion of privacy, harassment, aggravation, and disruption of the daily life of thousands of individuals."
The class action lawsuit is meant to apply to individuals who were sent a promotional text message by Pizza Hut within the past four years after having sent an opt-out request to the brand. The plaintiff is demanding a jury trial and requesting an award of "statutory damages" for himself and all class members of the lawsuit.
Unfortunately for Pizza Hut and its parent company, Yum Brands, this is not the first time this year that the brand is being sued by consumers. In April, a lawsuit was filed against Yum Brands alleging that Pizza Hut and KFC failed to adequately protect the personal information of job applicants and employees following a January 2023 ransomware attack.
The plaintiff of that lawsuit said she received a KFC data breach notice letter informing her that names, addresses, birthdates, and Social Security numbers of applicants and employees might have been compromised during the January ransomware attack; this breach, the plaintiff alleges, means all class members were at increased risk for identity theft.
Between the allegedly persistent texting and the potentially letting identity thieves get a hold of personal info, consumers' relationships with their favorite restaurants are looking more and more like a messy breakup. Hopefully, the plaintiffs and Pizza Hut can find a way to be friends after all this.