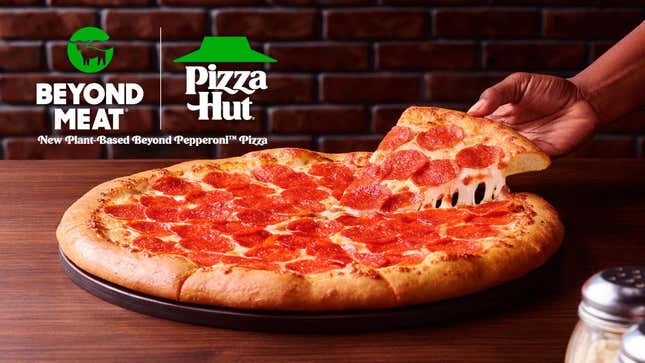 In November 2020 Pizza Hut boarded the plant-based meat train to Trend Town, partnering with Beyond Meat on two "sausage" pizzas. Our reviewer gave the Beyond Italian Sausage Pizza a solid B-, describing the faux-meat as such:

It was a bit nubblier and crispier than pork sausage. This might have been because it was overcooked. But it did taste strongly of fennel and pepper, and so it fulfilled the most essential flavor requirement for sausage on pizza. It didn't make the pizza any worse.
Dr. Pepper Strawberries & Cream Is Tearing Us Apart
All in all, not too shabby a review! Pizza Hut pizza and Beyond Meat sausage are both highly processed foods, so they're essentially made for each other. And now, after nine whole months of eager anticipation, the two companies are finally taking their relationship to the next level: Beyond Meat "pepperoni" will now top Pizza Hut pies, too.
Beginning today, 70 Pizza Huts in five different cities are rolling out a Beyond Pepperoni Pizza for a limited time only. If things go well in Albany, New York; Columbus and Macon, Georgia; Houston, Texas; and Jacksonville, Florida, then Pizza Hut will bequeath the rest of the country with this friendlier-to-animals pepperoni pizza. You hear that, Albany, Columbus, Macon, Houston, and Jacksonville? We're all counting on YOU. If you mess this up for the rest of America, the nation's vegetarians and flexitarians—and hey, even those of us who are simply curious to try it—will ever forgive you. In Pizza Hut's press release, the company states that the pepperoni contains "just the right amount of subtle heat," as its classic meat product does, and the Beyond stuff "is made from simple, plant-based ingredients like peas and rice, with no GMOs, soy, gluten, hormones, antibiotics or cholesterol." Hopefully they've found a way to keep it greasy.
As The Takeout has proven in the past, from an engineering standpoint, there is no such thing as too much pepperoni on a pizza. Until now, the only thing that's stopped most of us from requesting a 4-inch layer of pepperoni on our pizzas has been the fear of instant death, but if we no longer need to concern ourselves with cholesterol or literal cups of molten pork grease, then perhaps there are no limits? Let's all pray that Albany, Columbus, Macon, Houston, and Jacksonville don't let us down. Think of the boundaries we can break.