We've seen the joke a dozen times, the one that says anything can be a meal if you smash it between two pieces of bread. Al Bundy sprinkled Tang powder across a couple slices on Married… With Children. In The Breakfast Club, shaggy, black-clad Allison adorned her sandwich with Pixy Stix and Cap'n Crunch. The St. Paul sandwich is an improvement over those, no doubt, but it remains just as humble, a tossed-together curiosity encompassing the cheapest of ingredients. But it works.
Sold mainly in chop suey restaurants, the St. Paul sandwich is made of two slices of white bread, iceberg lettuce, tomato, pickle—and here's the novel part—an egg foo young patty. Egg foo young, for the Chinese-American restaurant uninitiated, is an omelet cooked past fluffy and into overdone, a combination of whipped eggs, meat, bean sprouts, maybe shrimp, and other inexpensive fillers. On its own, the patty is served beneath a blanket of brown sauce, but the one condiment you'll find on the St. Paul is a thick slather of mayonnaise. Traditionally served on wax paper, the final product is sloppy and greasy while maintaining a textural richness thanks to its bargain-bin condiments. The pickle is an especially important addition, as its acidic crunch mellows out the fattiness of the egg mass. At the risk of overthinking its gastronomic subtleties, the true purpose of the St. Paul sandwich is that it takes an inexpensive dish and stretches it even further with inexpensive starches and accoutrements.
The biggest misconception, though, is that the St. Paul sandwich has a connection to the Minnesota city. Its true home is 530 miles south in St. Louis.
There are a number of origin stories. Writer Malcolm Gay, in a 2006 piece for St. Louis' Riverfront Times, credits its creation to Park Chop Suey, a St. Louis mainstay founded by Steven Yuen. As per local legend, the St. Paul was whipped up by Yuen sometime in the '60s or '70s. He named the sandwich after his hometown of St. Paul, Minnesota.
Thomas Crone, a St. Louis writer and co-founder of the city's Tick Tock Tavern, suggests it might date back even further. Another prominent theory is that the sandwich originated on a steamer ship traveling on the Mississippi River in the early part of the 20th century. "The thought is that a Chinese cook on the ship created the dish in order to stretch the meal dollars," he says. The ship's name: the St. Paul.
There's also Kevin Belford, a St. Louis blues historian who has published photos of vintage ads from the early 1900s that feature the St. Paul sandwich on their menus. "Those lead me to believe it pre-dated Park Chop Suey," Crone says. "But it's possible the sandwich could've fallen completely out of favor and [Yuen] re-popularized it." Considering several of these photos point toward a St. Paul with different ingredients—scrambled eggs and ham, most notably—it's also a possibility that swapping in the egg foo young patty was Yuen's idea, and it turned out to be the one that lived on.
G/O Media may get a commission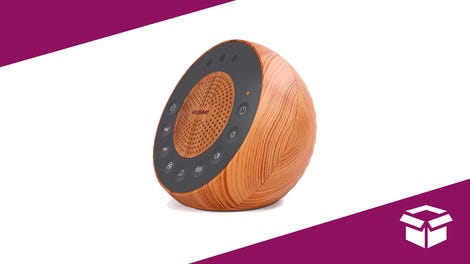 23% off
Housbay White Noise Machine
The St. Paul never enjoyed sustained popularity, though—more like an ember that flares up whenever it's fed oxygen. Crone mentions the sandwich's appearance in the rhymes of local hip-hop talents (Murphy Lee, member of Nelly's St. Lunatics, name-checks it here), and rapper Tef Poe repped it in a recent Noisey feature. In times like these, Crone says "a wave of people will come across it for the first time and share it, and suddenly St. Pauls are popular for a few weeks." Still, for as long as it's been around, it's never found a foothold outside of St. Louis. That might be because the sandwich is more a point of civic pride than culinary innovation, and as Gay describes, "a St. Louis curiosity that many say they love, but few actually eat."
"It's part of a culinary generation whose time has passed," Gay says. "People have a lot more choices when it comes to dining out these days."
For Crone, though, the St. Paul was never going to appeal to the larger culinary cognoscenti. Its appeal isn't rooted so much in its flavors as its convenience. Crone's love for the sandwich wasn't instantaneous; rather, it was born out of persistence. When working at the Riverfront Times in downtown St. Louis, Crone and his colleagues would visit a nearby Chinese takeout joint. There you could get a St. Paul for under $2. In a piece for St. Louis magazine, Crone says his first one left him with "a definite sense of queasiness that endured for the rest of the day." He admits to me that "some people will never get past the first bite." (If you could put a price tag on texture, then with the St. Paul sandwich you're getting what you pay for.) But at the time, Crone was a young writer with an "iron stomach" and "not a ton of money." He couldn't afford not to embrace it.
Even in 2017, you can procure a St. Paul sandwich nearly at that low price. Depending on the protein you choose—duck is popular, Crone says—the sandwiches typically aren't more than $4, though he says at that upper range the price will give locals a "moment's pause." The implication: No one should be paying that much for a St. Paul.
For Crone, a moment's pause was also given when an upscale, now-shuttered St. Louis restaurant named Terrene began serving an upscale version of the sandwich about a decade ago. Chef Dave Owens swapped out white bread for whole wheat, and canned pickles for house-made ones, and topped it with a red cabbage slaw. Crone isn't interested in the elevation of the sandwich. "It's so unnecessary to really add much to it." Nor does he care about using more high-end ingredients. "Every aspect of it, including the big dashes of MSG, make the sandwich." For him, an elevated version (at a higher price point) "defeats the popular appeal of it."
Much of the sandwich's appeal for Crone is how it encapsulates the city's workaday spirit. St. Louis has also born a number of curious culinary specialties, including the toasted ravioli (really—deep fried), gooey butter cake, the St. Louis-style pizza (with Provel processed cheese), Red Hot Riplets potato chips, and the brain sandwich. While the city's culinary scene has made great strides in recent years (including two winners at this year's James Beard Foundation Awards), the standbys enjoy much staying power. "It indicates that St. Louis is sort of set in its ways. There's not a huge amount of movement in and out, so when something sticks around for a while, it tends to stay," Crone says. "I can see some place outside of St. Louis offering it and people just having no conception of what it is. And they would probably say, 'Wow, this is really, really bad.'"