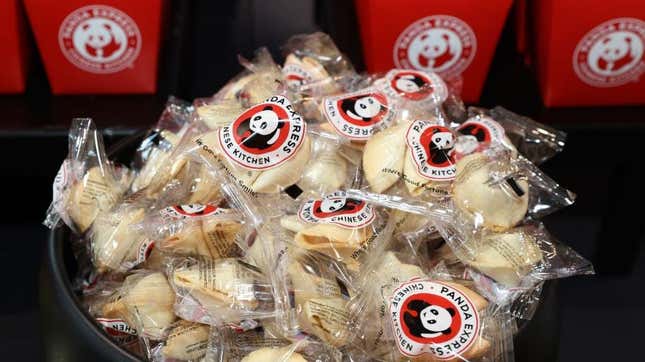 Who said academia is no fun? The University of Pennsylvania's Asian American Studies Program is now accepting applications for its Panda Express Postdoctoral Fellowship. Yes, the position is being funded by and will bear the title of Panda Express, the California-based fast food chain specializing in American Chinese Cuisine.
Dr. Pepper Strawberries & Cream Is Tearing Us Apart
A brief history of Panda Express
Panda Express, which rose to prominence in the 1980s, was founded by Chinese immigrants in the United States. The first modern Panda Express location opened in the Glendale Galleria food court in 1983; early on, most locations were opened in malls.
The restaurant lays claim to the invention of Orange Chicken, a dish that has become synonymous with Americanized Chinese food. The sweet and sour fried chicken pieces truly built an empire: Today there are nearly 2,300 Panda Express locations in the United States, and Panda Express is far and away the largest presence within the American Chinese restaurant segment. While many other dishes like Honey Walnut Shrimp have found success on the Panda Express menu, Orange Chicken is a titan of fast food innovation, a dish so well-suited to the American palate that it has truly shifted the concept of what American Chinese food is and can be.
Why Panda Express is sponsoring Asian American studies
With sustained financial success comes opportunities to make use of the profits beyond expanding storefronts and working on new recipes. Panda Express views increased cultural and historical scholarship as a worthwhile investment. 
"With the generous support of the Panda CommUnity Fund, this initiative will support a total of five positions over the next three years," notes the UPenn press release.
The fellowship begins on July 1, 2023 and runs for one year, with the possibility of renewing for a second year. Fellows will receive a stipend of $65,000 the first year, plus "applicable benefits and an allocation for research expenses," and will be expected to teach courses, plan events and/or workshops, and be an active member of the department. It's all part of UPenn's expansion of its Program in Asian American Studies, which the university says has "skyrocketed" in demand over the past few years.
The Panda CommUnity Fund is a "$10 million community investment and response program that supports immediate and sustainable solutions from national and local organizations to uplift diverse groups." This initiative, created in 2021, seems aimed at curbing Anti-Asian hate crimes, which have spiked since 2020.

It might sound slightly funny to say out loud, but the Panda Express Postdoctoral Fellowship in Asian American Studies sounds like a good way for a fast food chain to use all that fried chicken money. It's possible this scholarship could have a real impact in the world, unlike the often empty gestures of companies that try to curry favor with the public by making flashy promises and failing to fulfill them.