The internet operates on hyperspeed—as fast as it takes for your thumb to flick up your phone screen. It means you may have missed some of The Takeout's award-eligible food and beverage writing. Fear not! We've rounded up some of our proudest pieces of reportage from this past week.
We Rank Three New Grillo's Pickles Flavors
---
From slapping them on rocks to washing machines, a look at how octopus gets so deliciously tender.
---
G/O Media may get a commission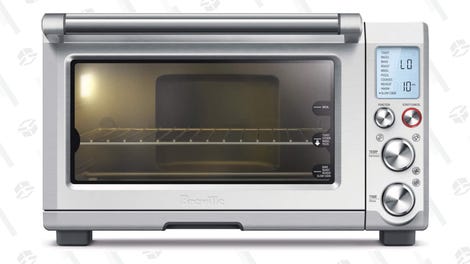 36% Off
Breville Smart Oven
The Takeout's Kate Bernot gives us a crash course on the bounties of Oaxacan cuisine.
---
Our Gwen Ihnat has been valiantly trying to improve her pie game this last month. Will this week's Crisco lesson be a success or failure?
---
Lessons from our resident restaurant-behavior advice columnist.
---
In an age when any recipe can be accessed on your phone in 10 seconds, an appreciation on the enduring charm of church cookbooks.
---
Dr. Hoby Wedler loves dining out. He's also blind. Wedler offers tips to restaurant staff on how to make the experience of blind diners seamless.
---
Tips to cool your Chardonnay, stat.
---
Shami, chelo, kebab, doogh—our 101 guide to the pleasures of Persian cooking.
---
During a story ideas meeting last week, we asked The Takeout's Gwen Ihnat what's the best dish she makes. Without a pause, she said her mother's stuffed shells. We talked Gwen into divulging her secret go-to recipe.
---
Everything you need to know to dive into the world of cava, champagne, and sparkling wine
---
Would customers at a tavern be annoyed if you brought your kid? Our Salty Waitress answers.
---
St. Patrick's Day in Chicago is a wild scene. A former bouncer has stories to tell.
---
Potatoes are integral to Irish cooking culture. Learn these four classic recipes and you'll be set.
---
This week I learned pickle juice is helpful to curing a hangover.