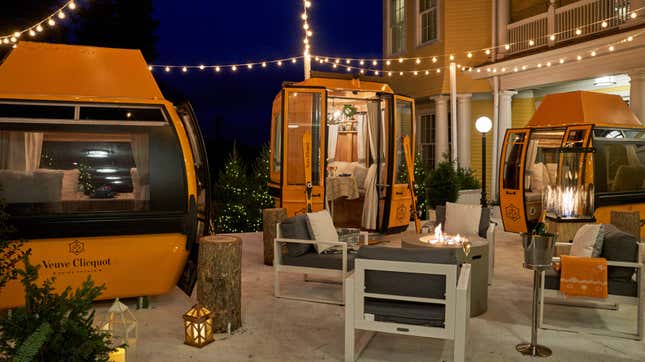 Rhode Island isn't actually an island, but it does have some truly spectacular beaches on its 400 miles of coastline. While the summer is delightful, it's also crowded and trafficky and hard to get a table at the really good seafood restaurants. That's why I will never hesitate to go to the shore in the off-season. Even in winter, there's so much to appreciate. Case in point: the Gondola Village at the Ocean House hotel, a luxury dining experience that runs through March. Quite simply, it's the best winter dining experience I've ever had.
How To Dispose Of Cooking Grease The Easy Way After Frying
Picture a grand Victorian hotel, vivid yellow, rising up against the gray winter ocean beyond. You ascend the steps into the lobby, where you're greeted with a glass of champagne, a glowing fire in the hearth, and a pianist or jazz trio, depending on the day. "Are you ready for your gondola experience?" someone asks. And you head outside, in the freezing winter weather, to a piece of lawn that looks like the French Alps.
Gondola Village has a serious après-ski vibe, even though you likely haven't been skiing that day, given the closest real mountains are several hours away in Vermont and New Hampshire. The village comprises three vintage ski gondolas, which have been remade into private dining areas. Open up the door to your private gondola and you'll see a table inside surrounded by cozy, cushioned benches and pillows, and more blankets than you could possibly need. Inside, a soundtrack of jaunty Alpine music plays from speakers in the ceiling, near the chandeliers and antlers hanging above.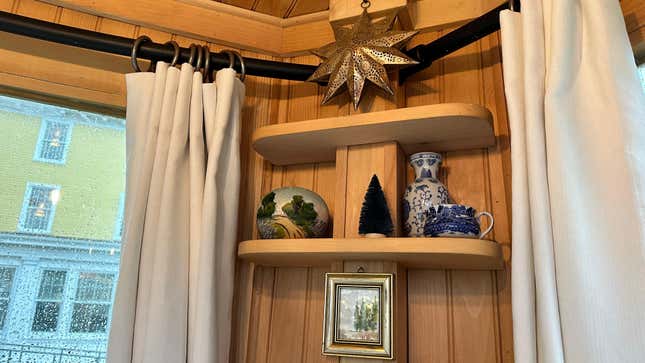 Fire pits, adirondack chairs, and strings of white lights surround the ski gondolas to complete the look and feel. Skis and toboggans stand ready nearby, though after a few champagne cocktails, you probably won't want them (plus you can't really ski on a beach, even if there is snow). Nearby, signs point diners toward Chamonix, Grenoble, and Courchevel, in case you're so inspired by the après-ski experience that you decide you need to depart for the real Alps straightaway. That might sound like an exaggeration, but considering that Ocean House hotel rooms start at $800 per night and this dining experience costs $600 for four people (plus wine), it's not such a stretch to think that patrons might do exactly that.
But I didn't just go there for the setting. I went for the food. And there's a lot of it.
The French-inspired menu consisted of four courses and included a spritz cocktail made with Veuve Clicquot Rich and winter spices. Our first course was a duo de canard: duck rillettes (shredded duck legs in an aromatic sauce) and a foie gras torchon (goose liver pâté) with toasted baguette, fruit preserves, and pickled vegetables. My three friends and I weren't expecting to love this course as much as we did, but we lingered over our appetizer so long that we ended up ordering a second round of spritzes as we finished eating it.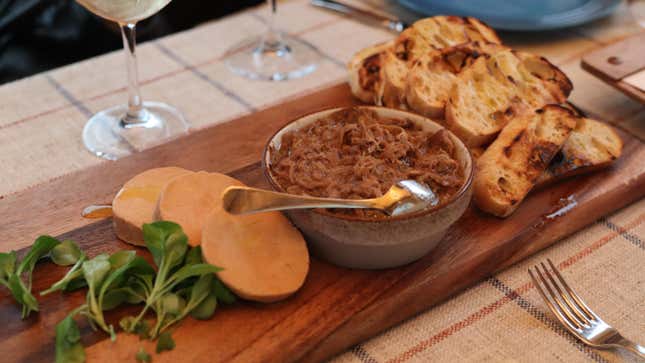 The second course was a choice of soupe à l'oignon gratinée (French onion soup) or salade de lentilles et carottes roties (salad with lentils, roasted carrots, and hazelnuts in a dijon vinaigrette). I chose the soup, with its golden crust of melted gruyere, served in a tiny Le Creuset pot.
For the main, our server warned us that we were probably already going to be full by the time it arrived, and he was right. Two in our party ordered jarret d'agneau braise (braised lamb shank with horseradish potatoes and root vegetables), and after a few bites and exclamations of joy mixed with regret, they requested that the course be wrapped to take home. Two of us had the saumon en papilotte (salmon baked with her butter in parchment paper). I was happy I ordered something lighter, but I couldn't finish my dish either. Other entree selections included a mushroom stew or boeuf bourgignon, both topped with puff pastry.
No one thought we could handle dessert, but then dessert came: a picturesque Paris-Brest. This circular choux pastry, sliced horizontally and filled with praline cream and toasted almonds, was light and sweet, and such a perfect end to the meal that we ate every crumb.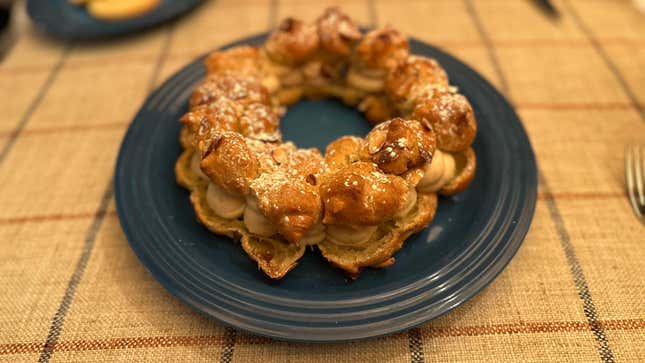 Ocean House opened in 1868 as a luxury hotel for the rich and famous, but had fallen into such disrepair by the turn of the (most recent) century that a preservationist investor stripped the building down to the foundation and rebuilt it in a nearly identical replica of its original design. When it reopened in 2010, the Forbes Triple Five Star hotel (only 12 in the world have that distinction) attracted A-listers like Jessica Simpson and Oprah Winfrey—and now has a very famous next door neighbor in Taylor Swift.
I've seen the Ocean House hotel do a lot of remarkable things. In the summer, it houses a secret champagne garden. One Christmas, the culinary team turned the restaurant into a gingerbread house, covering the entire entrance with an enormous wall of real gingerbread, gumdrops and all. But sitting in that gondola, cozy and warm despite the freezing winds just outside, eating pâté and drinking French wine with my closest friends, is an experience that bests them all.