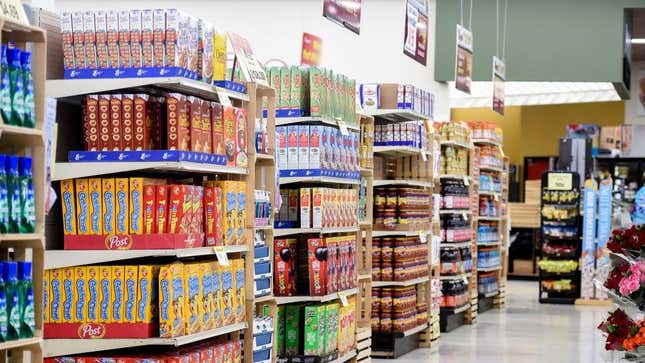 You run out of vanilla midway through baking a cake; you're stranded in a toilet paper desert; your milk is expired and you need a bowl of Cheerios to live another day. Grocery emergencies happen, and one startup is here to save the day—for a price. Business Insider reports that Gorillas, a Germany-based startup that provides grocery delivery "in 10 minutes or less," is launching in New York City on May 30.
We Taste Kazbars, the New Hostess Snack Cake With Crunch
A recent press announcement explains that Gorillas will begin service in parts of Brooklyn, including the Bushwick, Boerum Hill, and Carroll Gardens neighborhoods, with plans to expand to Manhattan in June. Founded less than a year ago, Gorillas also plans to expand to "East, Central and West Coast cities by the end of the summer," a spokesperson told Business Insider.
Ten-minute grocery delivery admittedly seems pretty far-fetched. However, the company claims it delivers using a series of "micro warehouses" that serve a tight delivery radius. The warehouses reportedly carry between 2,000 and 2,500 grocery items, with a fairly low delivery fee of $1.80 per order and no order minimum.
Gorillas employs a fleet of couriers riding electric bikes to get the job done; in more sinister, Black Mirror-adjacent news, the company reportedly plays hardcore techno music inside the warehouses to keep the riders pumped up and ready to run. That level of hyper-efficiency creeps me out and makes me wonder about employee treatment—and that's not to mention safety, as couriers cruise through the streets of NYC at top speed. Maybe I'm old-fashioned, but I'm still a believer in physically purchasing my own groceries.