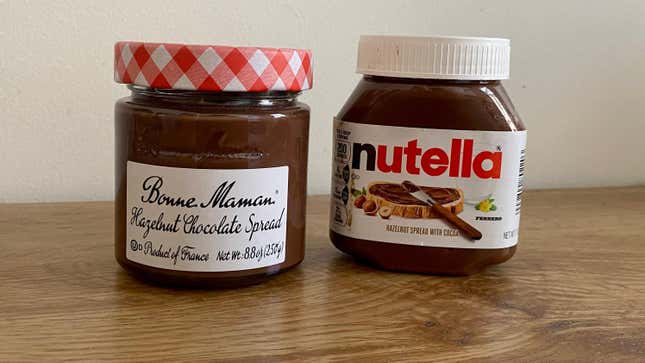 Bonne Maman, purveyor of preserves and spreads in adorable glass jars with the gingham lid, has debuted a new hazelnut chocolate spread, currently available online but heading to retailers nationwide this August. In other words, Bonne Maman is now in competition with the world's most commonly consumed and widely known cocoa spread, Nutella. Can one beloved brand outshine the other?
This is the Best Dairy Substitute for Your Morning Coffee
Ad copy for the Bonne Maman product boasts that it's made without palm oil, an ingredient with a bad reputation for being not only high in fat but a driver of deforestation—and one that features prominently in Nutella's ingredients list. In place of palm oil, Bonne Maman uses vegetable oils derived from sunflower and rapeseed.
To determine how Bonne Maman stacks up against the OG, Nutella, I tasted each one side by side. I mean that literally: Each spread was applied to its own end of the same slice of sourdough bread. (Don't worry, a different knife was used for each one so as not to contaminate the samples and potentially skew the results.) Here's how the two products compare.
Price
Bonne Maman is currently only available online, sold in sets of two, so that's what I settled for. It cost $16.99 plus shipping, and the order included a metal spreading knife. Very fancy.
According to the press release, once the product hits stores its suggested retail price will be $6.49 for an 8.8-oz. jar and $8.49 for a 12.7-oz. jar. That's considerably higher than Nutella, which is $3.74 for a 13-oz. jar at Walmart.
Spreadability
For what it's worth, I performed this taste test on an unseasonably warm day. Both jars say not to refrigerate (or microwave) the spread, so each was consumed at room temperature, and the room was warm.
The Bonne Maman was a bit drippier than the Nutella. Is this because of its lack of palm oil? Unclear, but it was runny enough that I had to clean the side of the jar after some of the spread dripped off the knife, which didn't happen with the slightly stiffer Nutella.
Still, once they landed on the bread, they looked pretty similar.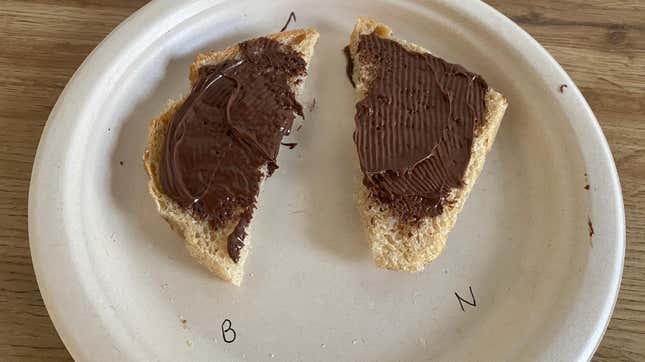 Flavor
Bonne Maman tastes ever so slightly less sweet, though it's still a sweet, chocolatey spread. Comparatively, Nutella has a more assertive flavor, though it's hard to tell whether it hits with a lot of chocolate or a lot of hazelnut upfront. Either way, it's less subtle than Bonne Maman.
Despite the slight difference in their flavor and texture, after the first bite of each, the differences between them became less apparent, and by the time the toast was gone, I couldn't tell the difference.
Bottom line
If you simply enjoy chocolate hazelnut spread, you can stick with Nutella at a much lower price point. But if you want to avoid palm oil and be left with some really cute jars for home decor, food storage, or crafting, go with Bonne Maman, a viable (though pricier) alternative.