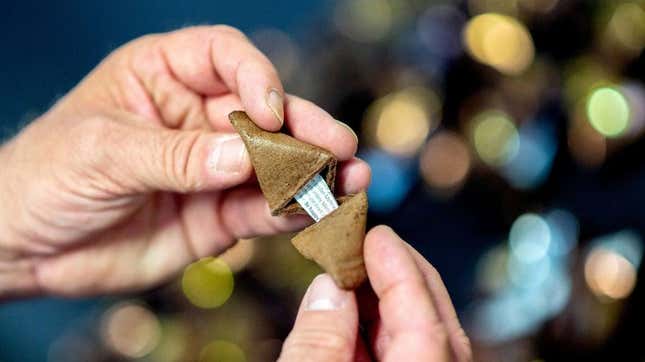 In the past, we've found that fortune cookies have won people actual fortunes. But if you're in Arizona, be prepared to see a prediction for something less luck-related and more education-related. The Phoenix Business Journal reports that Northern Arizona University (NAU) has exclusively partnered with fortune cookie company, OpenFortune, to put school advertisements inside millions of fortune cookies in Arizona.
How To Dispose Of Cooking Grease The Easy Way After Frying
OpenFortune, a New York-based company, is responsible for distributing over a billion fortune cookies across the United States. Over a billion? That's a lot of fortunes! Per the Business Journal, more than 21,000 restaurants get their cookies from OpenFortune. Soon, Arizona residents will crack into some of those cookies—only to find messages like "your opportunities are endless" or "you are in control of your destiny." The twist? The back of the fortune papers will feature a QR code. That code will take fortune cookie enjoyers to NAU's website.
OpenFortune and NAU have already launched a smaller campaign using fortune cookies as an advertising vehicle for the school. NAU chief marketing officer, Harlan Teller, said that it's already been effective, allegedly driving new applications and boosting prospective student engagement.
Have you ever received an advertisement in a fortune cookie? I don't think I have (yet). I've seen some real duds on those fortune papers, as well as some pretty egregious typos, which are always entertaining. Regardless, I'm not sure how I'd react if I saw an ad in my fortune cookies after a hearty meal of crab rangoon and delicious kung pao chicken. I'd rather win the lottery. Mostly because my school years are way over.
An ad in my food would probably make me a little grumbly. But hey, if a fortune cookie is the gateway for someone furthering their education, I can't say I'm opposed.