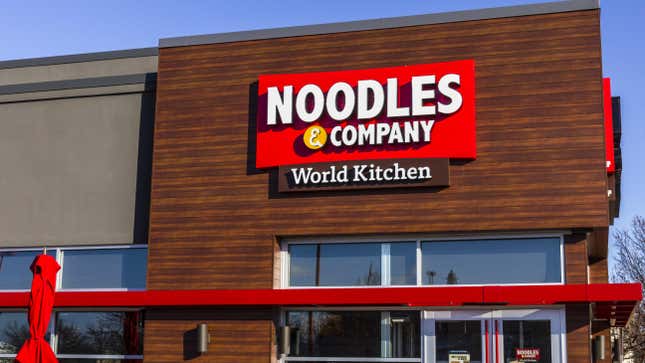 Fast-casual chain Noodles & Company is arguably late to the game when it comes to modernizing with some high-tech updates, but that won't damper the company's enthusiastic optimism about its latest brand refresh. Nation's Restaurant News reports that Noodles & Company is making big changes that have nothing to do with the food, instead putting more money and effort behind its tech and marketing strategies.

Dr. Pepper Strawberries & Cream Is Tearing Us Apart
CEO Dave Boennighausen explained to attendees of a recent business conference that Noodles & Company is in a better position than it was pre-pandemic, but growth is still slower than he'd like. He discussed some moves the chain was making to spur more growth in the fast casual arena.
Digital menu boards
It might not sound like a huge change, but digital menu boards have done big things for Noodles & Company, and the brand will lean hard on them in 2023. Because they're easy to update and alter, these boards can more precisely target customers in specific markets and promote specific new menu items at certain locations. For example, a college town wouldn't shine a spotlight on the kids menu.
The menu items featured on the boards will, again, stay pretty consistent. The company is more interested in updating tech this year than rolling out a revamped menu, since it's already working with a solid foundation of reliable offerings.
One of Noodles' most recent additions to the menu, LEANguini (a higher protein, lower carb linguini), has performed well in large part because of the digital menu boards, Boennighausen explained. Why? Because the more dynamic boards let the restaurant explain appealing things about it to the customer, such as its nutritional value, and its ingredients.
"Our ability to have digital menu boards could be a very, very big driver for us as we go forward in terms of just articulating the brand and all [its] great attributes," Boennighausen said.
More customer loyalty
Noodles & Company is also placing renewed focus on its loyalty program, much like other major chains have as 2023 begins. The Noodles Rewards program currently has 4.4 million members, and it's taking a page out of McDonald's and Spotify's handbooks.
As 2022 drew to a close, Noodles Rewards members received a video year-in-review wrapup, similar to what McDonald's loyalty members received in early December. The video included imagery of menu items that the customer had ordered over the past year. Throughout the year, members also receive mobile alerts about how many points they've racked up and how to spend those points, ideally prompting more orders and cultivating a base of more frequent Noodles customers.
None of Noodles & Company's updates are too groundbreaking—the brand is taking its cues from its competitors, but seemingly to positive results. I don't blame Noodles for trying to stay hip. Technology innovations in the restaurant industry are moving fast, and it's hard to know which ones are a passing fad and which ones signal a complete shift in what it means to dine out. Hopefully, Noodles & Company can keep up with the times, because if this restaurant ever went away, I'd miss its Penne Rosa with Chicken.