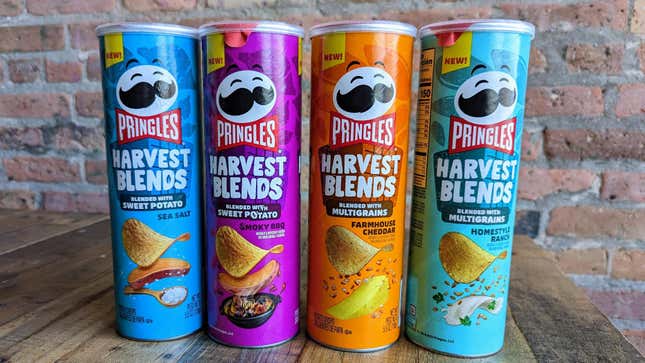 Was Pringles missing a SunChips-esque product from its lineup? The brand must have thought so, because it recently released a new category of chips called Harvest Blends. They're not a limited-time offering, but rather a permanent addition to the portfolio; two of the four new varieties have sweet potato blended in the base, while the other two have a multigrain-blended base.
With the term "Harvest" in the name, you can kind of sense that these things might be trying to establish themselves as a healthier alternative to potato chips, as SunChips have been doing for 30 years. According to the press release, these chips "boast a blend of ingredients and crispy, crunchy texture for a deliciously complex tasting experience unlike one you've ever had from Pringles." The brand sent over a sample for us to try for ourselves, and the box came full of mossy greens, as if to suggest the chips came straight from nature.
I did notice something interesting: The main ingredient to all of these chips isn't actually sweet potato, grains, or even regular white potatoes. It's degerminated yellow corn flour, followed by vegetable oil and dried potatoes. The Pringles Original ingredients label lists dried potatoes, then vegetable oil, then degerminated yellow corn flour. So it's all the same stuff with the ratios shuffled around a bit. I'm not getting such a healthy vibe after all.
Here's how each new flavor of these stacked chips stacked up.