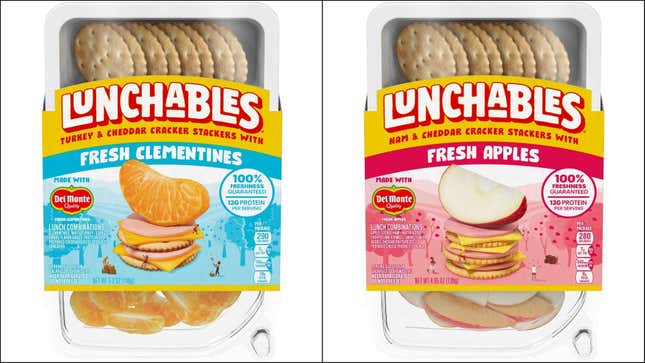 When I was a kid sitting in the school cafeteria, finding Lunchables in my brown paper bag was always a treat. Crackers, meat, cheese, and even a little serving of dessert were included in the tidy package, and it was always fun to eat. Yet throughout its 35-year history, the Lunchables product has sorely lacked one key element: produce.
How To Dispose Of Cooking Grease The Easy Way After Frying
As a little one, I was perfectly happy eating Lunchables composed solely of processed foods, but now that I've become a boring old person, these stacks of deli meat, cheese, and crackers feel like they're missing something bright. Apparently the people at Kraft Heinz have been feeling the same way, because the newest release from Lunchables will include—drumroll, please—fresh fruit.
The new Lunchables, explained
This is the first time in Lunchables' history that the packages will include fresh fruit, which will surely offset the savory onslaught of cheese, crackers, and ham or turkey. Also, parents will no doubt find the fruit to be a convenient inclusion, because they won't need to add clementines or apples on the side as a supplement to their children's school lunch.
The four new Lunchables, made in partnership with Fresh Del Monte, are as follows:
Turkey and Cheddar Cracker Stackers with Fresh Grapes
Turkey and Cheddar Cracker Stackers with Fresh Clementines
Ham and Cheddar Cracker Stackers with Fresh Apples
Ham and Cheddar Cracker Stackers with Fresh Pineapple
Storing fruit with dry crackers can pose a challenge, since it introduces a lot of excess moisture, so Lunchables had to rethink some of its packaging to make it work. But the solution was straightforward: the water-laden fruit is stored in its own partitioned cubby of the tray. (Starbucks has been doing this with its lunch boxes for years.)
In fact, this change is so intuitive that it's hard to believe that in 35 years, Lunchables have never included fresh fruit before—and yet a representative for Kraft Heinz confirmed to The Takeout that it's a first for the brand.

Now that there are fresh ingredients in these Lunchables trays, you won't find this lineup in the pre-packaged refrigerated deli section. They'll be shelved in the produce section near the fruit and vegetables at your local grocery store.
Where to find the new Lunchables with fresh fruit
You won't see these Lunchables everywhere just yet; shoppers can expect to see fresh fruit Lunchables roll out in the South-Central region of the U.S. at select grocery stores later this month in a limited market test. Depending on how that goes, nationwide distribution might be planned in the future. The announcement comes just in time for back-to-school season, but hey, it's not a terrible option for an office lunch, either.