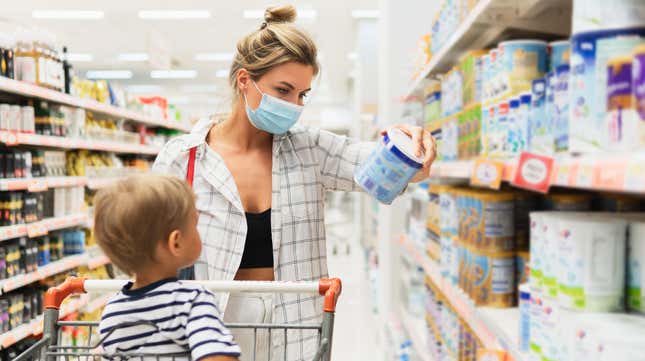 Lead is, in some measure, a surprisingly unavoidable fact of life. Despite decades of efforts to reduce the level of lead in our food and water, we will never completely eradicate it, but as part of its Closer to Zero initiative, the U.S. Food & Drug Administration hopes that its new guidelines will further minimize the levels of lead in processed baby food, Reuters reports.
How To Dispose Of Cooking Grease The Easy Way After Frying
Since babies and children under the age of two are most vulnerable to the harmful effects of lead, the FDA will be setting action levels to hopefully cut down the amount of lead in packaged baby food by as much as 27%.
How does lead end up in food in the first place?
Lead, like other heavy metals, occurs in our environment naturally, the FDA explains; it can be found in the air, water, and soil. However, it has also been introduced into the environment by human activity such as the use of lead paint and leaded gasoline, both of which have fortunately been outlawed. The concentration at which it's found in the food and water we consume makes the biggest difference in the impact on our health, and it doesn't take a high concentration to harm infant development; the FDA writes that young children are "especially sensitive to lead's adverse health effects because of their smaller body sizes and rapid development."
Generally speaking, a little bit of lead in the food we eat is actually okay—that is, there's not much we can do about it, since it never fully exits our environment. As a toxic metal that our bodies cannot process, higher levels of lead exposure are undeniably more harmful. So whether it's baby food or your favorite cartoon marshmallow candy, less lead is always the ideal.
What are the FDA guidelines for lead levels in baby food?
Understanding that lead can end up in food no matter how hard manufacturers work to prevent it, these new guidelines are part of the FDA's Closer to Zero goal of reducing babies and children's exposure not only to lead, but to arsenic, cadmium, and mercury down to the lowest possible levels.
The new guidelines limit concentrations in processed foods to 10 parts per billion in fruits, vegetables, and packaged meats, as well as products like yogurts, puddings, and mixtures, and 20 parts per billion for dry cereals. FDA Commissioner Robert M. Califf, M.D. noted in a statement that these regulations could help reduce childhood exposure to lead by 24-27%.
The FDA's draft guidance, citing several studies, notes a few ways that manufacturers can help to reduce lead levels in the food they produce:
Thoroughly peeling root vegetables
Thoroughly washing fruits and vegetables, "particularly leafy vegetables"
Selecting ingredients less likely to contain high concentrations of lead in the first place
Testing either ingredients or finished products more often for elevated lead levels
Reviewing production lines (including "facilities, processes, and equipment") to make sure additional lead is not being introduced into the food during the manufacturing process
With its new guidance, the FDA hopes to avoid creating unintended consequences like reducing lead concentration only to increase the presence of another contaminant instead, or reducing the overall number of nutritious foods available to children.
"The action levels are achievable by industry when control measures are taken to minimize the presence of lead," the FDA writes. And if the industry chooses not to comply, enforcement action can be taken.