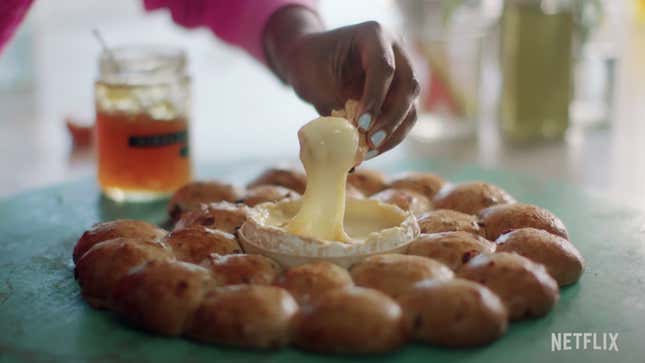 Netflix announced this week that it's opening a dedicated pop-up restaurant, Netflix Bites, on June 30. The limited-time-only eatery will feature popular chefs who host cooking programs on the streaming service. Some of the big names include Curtis Stone from Iron Chef: Quest for an Iron Legend, Ann Kim from Chef's Table: Pizza, and Nadiya Hussain from Nadiya Bakes, among many others you might be familiar with. As interesting as the announcement was, the public's reactions to it have been even more illuminating.
How To Dispose Of Cooking Grease The Easy Way After Frying
Netflix Bites, explained
"Netflix is cooking up something special for fans of our favorite food shows with the opening of our first culinary space," read the announcement in part, calling the pop-up restaurant "an elevated dining experience from several of our most well-known chefs."
It's not the first time Netflix has done a real-world activation, but it's the first one to involve food at the forefront. Past Netflix-branded live experiences include The Queen's Ball: A Bridgerton Experience and Stranger Things: The Experience.
"To top it all off, fan-favorite mixologists from Netflix's Drink Masters — including Frankie Solarik, Julie Reiner, LP O'Brien and Kate Gerwin — will craft custom cocktails for the drink menu," the release notes.

Reactions to the Netflix restaurant announcement
If you follow your city's food scene, a pop-up restaurant is normally something to be excited about. I cook at charity pop-ups regularly in Chicago, and from my experience, the excitement is real. These events present an opportunity to taste new food from chefs who want to experiment in the kitchen, and they almost always have a fun energy to them.
But online, the reception to Netflix Bites in particular has been decidedly mixed. For one thing, there's been no shortage of jokes related to the Netflix service. Actor Devon Sawa cracked a pretty good one:
"Netflix restaurant where the server keeps asking you if you're still here," he tweeted. That is, of course, a reference to the streaming app interrupting its own programming to nudge you once you've been watching a show for a certain length of time, just to make sure you're still physically present.
"DONT SHARE FOOD AT THE NETFLIX RESTAURANT," wrote one Twitter user, along with a photo of someone in the back of a cop car being hauled away. There are many, many tweets in this vein, referencing the fact that Netflix is currently cracking down on password sharing among users.
Writer Jelena Woehr, meanwhile, had a delightfully specific dunk on Netflix: "Excited for the Netflix restaurant, where the menu will just say 'most diners are ordering sandwiches' and I'll find out later from Brazilian lesbians on Twitter that they actually serve a fantastic filet mignon they just never mention it to anybody." This is a three-pronged criticism of Netflix's marketing strategy, its recommendation engine, and its proportion of mediocre shows to good ones.
There were also lots of jokes about the name Netflix Bites, which is a double entendre that means both "this place serves food" and "this place is bad." However, given Netflix's social media presence, we're going to assume this wordplay was intentional—after all, the Twitter handle for its comedy programming is @NetflixIsAJoke.
In any case, it's hard to ignore the timing of the Netflix Bites announcement, given the ongoing Writers Guild of America strike, which has brought TV and movie production to a grinding halt. PR stunts like this sometimes act as a distraction to ongoing negative attention, and considering the strike has no end in sight (it started on May 2), perhaps Netflix is trying to shift focus to something decidedly more upbeat than its apparent refusal to negotiate with union workers.
If you're trying to distract people from bad news, the promise of treats might be the easiest way to do it. Right now we have no clear idea of what to expect from the pop-up restaurant, since none of the dishes have been announced yet. But I'm sure when it opens on June 30, plenty of influencers will board the hype train, which might prolong the distraction just a bit more.