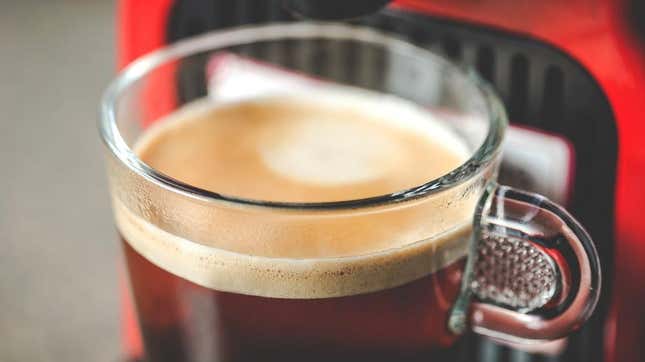 Though I'm typically a black coffee drinker, I will occasionally dabble in flavored coffee, which the New England–hardened waitress at my local diner calls "froufrou coffee." It's really not that elaborate, just flavored beans, brewed and served black. In the summer, however, the flavors tend to get a little more playful and refreshing than the standard French vanilla, with varieties like coconut and macadamia nut hitting the market. And so it was that I leapt at the chance to purchase Nespresso's new Juicy Watermelon coffee pods. Froufrou indeed.
How To Dispose Of Cooking Grease The Easy Way After Frying
Nespresso's Juicy Watermelon coffee, explained
For the uninitiated, this Nespresso coffee maker uses a pod system (much like Keurig), but its espresso pod is marketed as a stronger, more premium product than its competitors.
The new Juicy Watermelon flavor is described on the Nespresso website thusly: "The refreshingly sweet and juicy taste of watermelon with a delicate, light-roast Arabica coffee makes this the drink your summer needs." It's intended to be brewed over ice, so I obliged, even bringing ice in a cooler to my office, where the Nespresso maker lives.
I brewed a cup using one of the adorably designed blush pink pods and found, to my surprise, that the beverage smelled just like a watermelon-flavored Jolly Rancher. And while a comparison to Jolly Ranchers might be a positive thing in numerous other culinary contexts, it didn't come as a welcome association here.
How does watermelon iced coffee taste?
Once the coffee was done brewing, I swirled the ice around to make sure the drink was getting plenty cold, and then I took a sip. The flavor was surprising. Unlike anything I'd ever had in coffee form before. It was bad.
The watermelon flavor was certainly prominent, making it very clear very quickly that watermelon and coffee do not mix (a lesson I never knew I'd learn). The juiciness of the watermelon seemed to accentuate the apparent bitterness of the coffee rather than temper it, and though I only brewed a single Juicy Watermelon pod, the flavor lingered in my Nespresso maker for days.
On Reddit, several people report similar experiences of trying watermelon Nespresso pods for the first time. Some call it "weird," others call it "confusing." Some liked it; indeed, my best friend loved it and happily took the rest of the pods off my hands. Due to the stark division it created, I wondered: Has watermelon coffee ever been a commercial success?
Despite my aversion to the Nespresso pods, I did discover one watermelon coffee concoction in the course of my research that I wish I could try. In 2019, Bangkok coffee chain Roots created a Thai-inspired coffee-and-watermelon drink that combined cold brew with watermelon juice (instead of using watermelon-flavored beans). According to a Facebook post, it was also served with dried fish mixed with fried shallots: "We start by sipping the coffee first, then we sweep the dried fish mixed with fried shallots and sugar on the edge of a cup with a piece of watermelon to enjoy this traditional Thai summer dessert called 'Tangmo Pla Hang'."
The drink was called the Tangmo Twist Cold Brew and was inspired by a barista's experience growing up eating Tangmo Pla Hang, or dried fish with watermelon. It sounds much more complex than the Jolly Ranchers-esque Nespresso pod.
Meanwhile, only one review of this San Marco watermelon flavored coffee actually mentions the watermelon flavor specifically, but that a reviewer describes it as "divine."
Some Reddit users report that pairing watermelon with coffee—as in, taking a bite of watermelon and then sipping coffee—is delicious. Yet in this video, YouTuber Mishra Twins tests out the viral hack of pouring coffee directly into a hollowed watermelon and appears disgusted by the results. It seems that no one can agree on whether watermelon coffee is or should be a thing, or whether any amount of doctoring can make it tolerable.
Maybe Nespresso is simply capitalizing on the oddball factor of its latest product, grabbing the attention of consumers everywhere for Juicy Watermelon's limited run—a tactic we've seen before in the beverage market. Or maybe it's trying to riff on the popularity of mazagran, a combination of iced coffee and lemonade. Even espresso and orange juice is a combo that has its fans. So while I understand what Nespresso was trying to do here, but let's hope it doesn't do so for long.