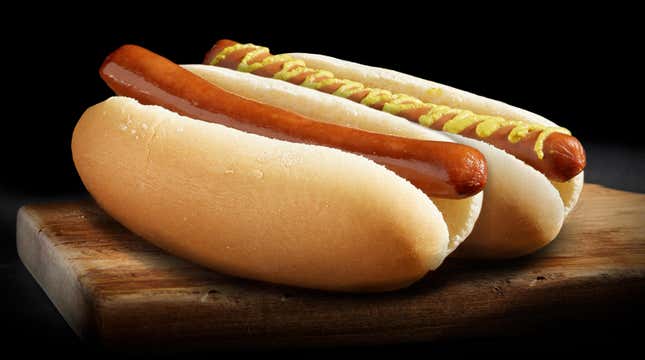 Nathan's Famous, hot dog chain and host of the wild and stomach-churning annual hot dog-eating competition, released a vegan hot dog in April that was available online only. Starting today, however, the vegan hot dogs will be served at 13 locations in Connecticut, New Jersey, and New York, including at the original Coney Island location, says Food and Wine.

Dr. Pepper Strawberries & Cream Is Tearing Us Apart
The retail price for a plant-based hot dog kit online (for six hot dogs) is $44.99, which is, uh, a little more than I'd pay for a hot dog kit, even though it also comes with buns and mustard. A 12-pack of vegan dogs alone is $39.99. So serving single dogs at a storefront is probably a much better way to get people to try it without digging into the couch cushions to find extra change.
James Walker, Nathan's senior vice president of restaurants, said in a statement, "We've spent a great deal of time perfecting this hot dog and making sure that those who know and love Nathan's one-of-a-kind flavor, as well as those that might not have tried a Nathan's hot dog due to diet, can now enjoy an option that fits their lifestyle."
Since the vegan hot dogs will only be available at select locations on the East Coast, the rest of us will have to wait for them to come to us, or use our paltry savings to invest in the at-home hot dog kits. No word on whether or not the hot dog eating contest—traditionally held on July 4—will involve vegan versions, however. I feel like that would add an interesting dimension to an already gnarly spectacle.