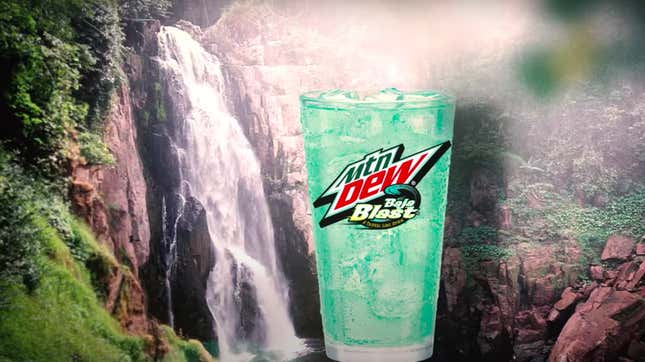 Last August, we reported that PepsiCo planned to release HARD MTN DEW (yes, it's spelled in all caps) in 2022. Per last year's official press release, the new MTN DEW-flavored spiked seltzer would be offered in three flavors: Black Cherry, Watermelon, and classic Mountain Dew. But now, CNN Business reports that the lineup will include a surprise ringer: Baja Blast.

How To Dispose Of Cooking Grease The Easy Way After Frying
Ah, Baja Blast. The sweet, sweet nectar of late-night excursions past. Baja Blast launched exclusively at Taco Bell in 2004, making its way to store shelves about a decade later. Personally, I can chug the stuff by the bucketful. It's zingy, zesty, and packed with indescribable flavors that have never and will never occur in nature. It's a tropical lime storm on ice, baby, and it might be enough to get me on the seltzer train.
The new seltzer is a partnership between Boston Beer Company and PepsiCo. The brands released the upcoming HARD MTN DEW seltzer flavor lineup last year, but PepsiCo "exclusively told" CNN Business that the Baja Blast flavor is a new surprise for fans. (What happened there? Was there an issue with the focus groups on the other flavors? Interestingly, CNN Business reports that Boston Beer's current CEO, Dave Burwick, was Pepsi's chief marketer during Baja Blast's initial release in the early 2000s, and the beer company said he was "instrumental" in the flavor's creation.)
Either way, the Baja Blast seltzer will fall in line with the other HARD MTN DEW flavors: each flavor is 100 calories, 5% alcohol by volume, caffeine free, and has no added sugar. I can't wait to get my hands on one of these bad boys. Baja Blast + booze seems like a recipe for serious mayhem. You can catch me swingin' from the chandelier, toots.