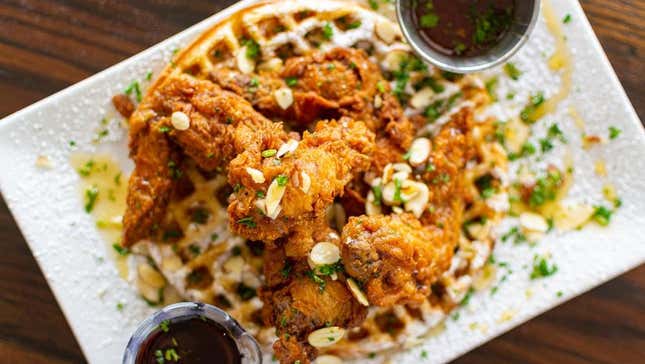 Before COVID, Friday afternoons used to look a lot different. In 2019, food and beverage spending would peak on Fridays at lunchtime, which is when diners would drop the most money on restaurant meals during the week. But the pandemic has changed everything, from the way we work (hello, hybrid schedules), to the way we eat (more delivery!). Apparently, it has also changed how we celebrate our time off on the weekends.

How To Dispose Of Cooking Grease The Easy Way After Frying
A new report by payment processing company Square indicates that Friday lunch no longer reigns supreme. According to restaurant data Square analyzed from over 800,000 food and beverage purveyors, there's a new spendy meal of the week, and it's one we hardly expected.
Everyone's shelling out for Saturday brunch
The Square report says that in 2023, the hours between 8 a.m. and 1 p.m. on Saturdays is when people are paying for 10.06% of the week's total spend. That's right, Saturday brunch, not even the iconic Sunday variety.
Spending during this timeframe is up from 8.54% in 2019. There are a lot of factors at play here, but one of them is that brunch tends to command a higher price than other meals.
Ming-Tai Huh, General Manager of Restaurants at Square, explains in the report that "Weekend brunch also tends to be higher-margin and produces higher per-person spend than the typical weekday lunch. These recent consumer habits are likely driving strong revenues per table for the restaurants that attract a regular brunch crowd."

If you think about it, since more people currently work remotely than they did in 2019, there's less reason to schedule a languid Friday lunch by the office as an excuse to get up from one's desk. Instead, people are kicking back over leisurely breakfasts the next day, when they can indulge in bottomless mimosas and linger over eggs Benedict. (Let's hope they don't linger too long.)
Here at The Takeout, where we've hotly debated whether or not brunch is actually the worst meal of the week. I'm firmly in the "brunch sucks" camp, for many reasons—I like sleeping in, and as a former restaurant employee, I can tell you that the brunch shift sucks. Nobody, including restaurant workers, likes getting up early on a Saturday or a Sunday, especially if you worked the closing shift the night before.
Even when I head to brunch, though, I associate this meal with Sundays. According to people's pocketbooks, I'm in the minority now. Saturday brunch—who knew? People must love kicking off the weekend with a bloody mary more than we thought.