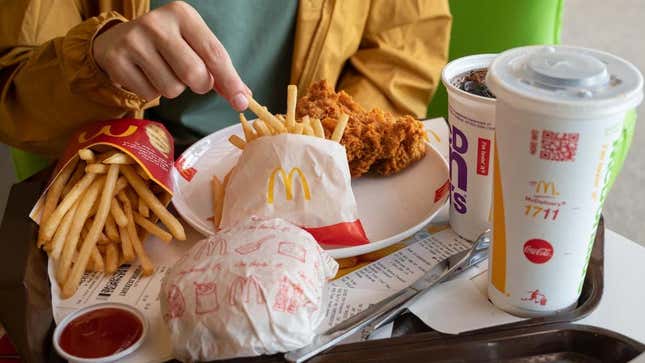 In the United States, McDonald's fans simply must live with the fact that the chain's international menu offerings are vastly more interesting than what we get here at home. One thing we can be happy about, however, is that the larger price tags attached to these popular international offerings have not made their way stateside.
McDonald's Shrinks Its Restaurant for the Digital Age
A recent study from online lender CashNetUSA looked at the varying prices of popular McDonald's menu items both nationally and globally. To create a ranking of the most expensive McDonald's menu items by country, CashNetUSA used the McDonald's app and local delivery apps to find the price of various menu items, then converted prices to USD and ranked them.
The study clarifies that the "most expensive items" ranks only those items that topped the list in each country, isolating the countries with the most expensive items. So, this means it is not a ranking of all the most expensive McDonald's items in Europe; instead, it takes the one item that was most expensive in each country and ranks those against each other.
McDonald's has over 38,000 locations in over 100 countries, but the top 10 most expensive menu items mostly come from Europe, per the study. Despite how much you might love Pulp Fiction, Le Big Mac and the Royale with cheese are not the most expensive items in France. At the top of the global list sits France's Triple Cheddar and Double Beef burger, which costs $15.70. This massive stack of beef and cheese also includes crispy fried onions, pickles, ketchup, and mustard.
In second place comes Liechtenstein with a Big Tasty Double Bacon for $13.31, tied with Switzerland's own Big Tasty Double Bacon. What's so big and tasty about it? Along with beef and bacon, the Big Tasty comes with tomatoes, lettuce, and a special smoky sauce. In third place (after that tie) sits the Dobbel Big Tasty from Norway at $12.97.
Only a few non-European countries crack the top 10:
CashNetUSA also broke down the rankings by region. The Double Beef McNifca from Honduras was the most expensive item in North and Central America, coming out to $8.94 (though the price of a Big Mac in Massachusetts comes close). The aforementioned Uruguayan Club House sandwich took the top spot in South America, and Irael's Big New York took first in Middle Eastern and Asian countries.
What do other countries have that we don't? Sometimes, they get much more exciting McDonald's food. But it sounds like a lot of the time, they simply get higher piles of beef, cheese, and bacon, all at a premium cost.