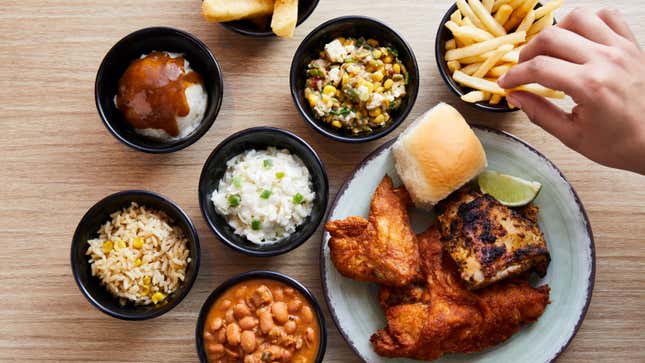 We're approaching Memorial Day weekend, and whether you plan on staying home, taking a little road trip, or attending the parades, there are many restaurants offering deals to sustain you on your day off. Some offers are, of course, specifically meant to honor those in military service, but there are also plenty of dining deals for everyone to enjoy.
All the Best Finds at the Sweets & Snacks Expo
7-Eleven: If you're hitting the road this weekend, 7-Eleven is offering a deal on fuel and food. Speedway and 7-Eleven Rewards members can get $0.05 per gallon off from May 26 to 28; on Monday, May 29, the deal bumps up to $0.11 off. If you're staying home, the convenience chain is also offering $20 off a 7NOW delivery order of $30 or more. All of these offers must be redeemed via the mobile app.
Newk's Eatery: The fast casual café chain with 100 locations throughout 13 states is offering a catering deal to make your weekend festivities simpler. From May 25-29, customers can get two pizzas and one salad for $20. Pizza options include Margherita, pepperoni, sausage and pepperoni, BBQ chicken, or Newk's "Q," and salad options include Caesar, Greek, or Garden.
Orange Leaf Frozen Yogurt: Maybe you prefer to handle your own cookout this Memorial Day, but what about dessert? A fruity frozen treat might cap off this relaxing weekend just right. Orange Leaf Frozen Yogurt will be offering $2 off all froyo purchases beginning this weekend and ending on June 1.
Pollo Campero: The Guatemalan-based chicken chain will be offering 15% off catering meals with code SUMMER15 from May 26-28, so you can make your Memorial Day cookout so much simpler by not cooking at all. Pollo Campero's catering options include value trays, snack platters, lunch boxes, and more.
Red Mango: Whether it's in smoothie form or froyo, a refreshing fruity dessert is the way to go for Memorial Day weekend. Red Mango, at its various locations throughout the country, will be offering $2 off all froyo purchases beginning this weekend and ending on June 1.
Twin Peaks: For a full-service but still casual Memorial Day weekend meal, members of the Armed Forces might want to swing by their nearest Twin Peaks, where participating restaurants will be offering 20% off meals for diners in the military.
In addition to being a time of remembrance, Memorial Day weekend is also often a sign that summer days are ahead. Hopefully, by saving you money and filling your belly, these food deals help spark summer vibes.