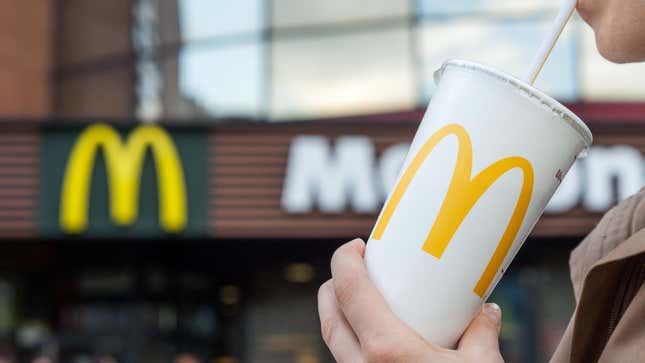 If you're not reaching for a cup of (sharp, crunchy) Coca-Cola at McDonald's, there's a good chance you're ordering a crisp, cold cup of Sprite. But strange things are afoot at McDonald's Australia, as it seems the go-to soda has been 86'd at locations across the whole country. This sounds nearly unthinkable, but leading news outlets are reporting on the change, and customers aren't happy about the soft drink swap.
McDonald's Shrinks Its Restaurant for the Digital Age
TikTok user @russ.eats posted a video addressing rumors that "Maccas" (Aussie slang for McDonald's) has replaced Sprite with Sprite Zero Sugar at locations nationwide. Initially incredulous, Russ visits a local McDonald's and asks for a Sprite. The ordering screen can be seen in the video displaying the order of a Sprite as "Sprite Zero Sugar."
Asked if the regular Sprite will be returning to the menu, the drive-thru employee confirms that, as far as they're aware, McDonald's has no plans to bring back the full-sugar version.
Could it be? Is Sprite Zero Sugar the permanent replacement for Sprite across Australia? We reached out to McDonald's to confirm the news.
"McDonald's Australia has recently moved to Sprite Zero Sugar across its restaurants nationwide," a representative for McDonald's told The Takeout. "We look forward to hearing customer feedback on the new beverage option."
Social media users are understandably nonplussed; apparently the swap was not prominently indicated to those who purchased Sprite. One TikTok user wrote in response to the @russ.eats video, "I knew my sprite tasted funny like 2 weeks ago bloodddyyy hellll."
"I knew this was going to happen they took it off the apps," another user wrote.
I can't imagine what would happen if regular Sprite was canceled here in the US. It's likely that McDonald's customers would cause an enormous uproar about it—uproars seem to be their specialty. Sprite was always my choice as a kid, so to see it disappear from the McDonald's menu and replaced by a zero-sugar equivalent would admittedly be jarring. But in these days of product changes, discontinuations, and supply chain chaos, you never know what to expect.