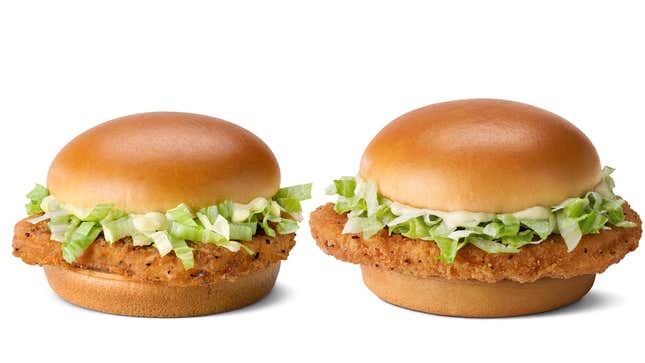 "It's a classic for a reason." That's how McDonald's describes its McChicken sandwich, my old standby whenever I don't want a burger, McNuggets, or a big-ass chicken sandwich made from a massive southern-style fried breast fillet. The McChicken's formula is simple: It's just a fried chicken patty, shredded lettuce, and mayonnaise, all on a regular bun. But the size of the McChicken has always been an issue.

How To Dispose Of Cooking Grease The Easy Way After Frying
If I want a square meal at McDonald's, sometimes I'll order two McChickens. Notably, McDonald's usually offers a deal on two McChicken sandwiches, perhaps because it knows people often need to double their order to feel full. And now, the chain is testing another solution to that problem: a whole new version of the McChicken that might finally fill us up. It's called the Grand McChicken, and it's being sold at select McDonald's locations in California and Nevada.
What is McDonald's new Grand McChicken sandwich?
The Grand McChicken sandwich is the same combination of chicken patty, shredded lettuce, and mayo, just a little larger. McDonald's USA confirmed to The Takeout via email that it's simply "a twist on the original McChicken featuring a bigger patty."
How much bigger? The calorie count, according to The Fresno Bee, is 550, compared to the regular McChicken's 400 calories, and from the photo above it can be assumed that those extra calories are coming almost exclusively from the larger chicken patty.
Where can you buy the Grand McChicken sandwich?
McDonald's USA tells The Takeout that the Grand McChicken has been on offer since August 23 at select test locations in California and Nevada, including Bakersfield, Sacramento, Chico, Fresno, and Reno. The Fresno Bee reports that, according to a McDonald's employee, the Grand McChicken can also be found in Clovis, California, but this is unconfirmed. The sandwich will be available for a limited time only.
Right now the internet chatter surrounding the sandwich has been pretty quiet; Twitter, Instagram, and Reddit are virtually devoid of news about it. While the concept of a Grand McChicken sounds good on paper, there's never any guarantee it'll spread to nationwide markets—and McDonald's does not currently have any information on whether the sandwich will see a wider release after this test run. It might end up like the highly anticipated McPlant, which has yet to make the leap to the nationwide menu.
It's notable that McDonald's has previously super-sized another menu classic: the Big Mac. The so-called Grand Mac (along with a diminutive version called the Mac Junior) was introduced in 2017 for a limited run. I remember trying the Grand Mac and enjoying its novelty, though really, it wasn't anything but a big-ass Big Mac. If the photo above is any indication, I'm guessing the Grand McChicken won't be much different, but it will likely fix a key flaw of the undersized original.
Hopefully this latest version is simply more of a good thing—but it's possible that the ratio of chicken to lettuce to mayo to bun will get thrown off by the increase in size. It might turn out that the McChicken is perfect exactly as it is, and we just don't know it yet.