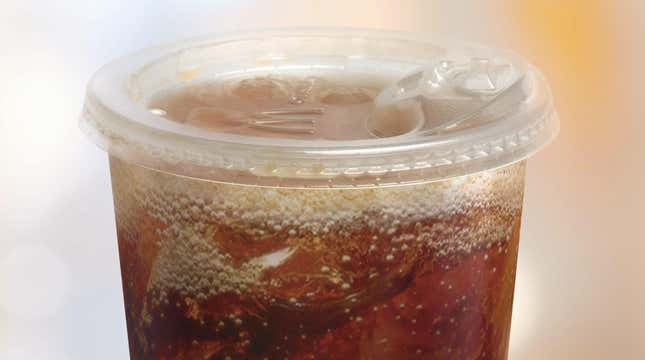 Paper straws or plastic straws? This has been a surprisingly hot-button issue when it comes to making food packaging more environmentally friendly. As part of a long-term sustainability effort, McDonald's is currently testing the approach of using no straws at all, CNN reports.

Strawless lids are currently being tested in some McDonald's locations across the country. The cup's clear plastic lid has a pullback tab, pretty much the same as what's used on to-go coffee cups like the ones at Dunkin'. The new lids are also very similar to the ones that Starbucks rolled out in 2020, but with an arguably better design: McDonald's pull-back tab provides at least some closure to prevent spills, whereas the Starbucks lids have a wide opening that stays open.
Aside from consumer convenience, the main point of these new lids, McDonald's confirms, is to reduce the company's reliance on certain single-use plastics in its consumer-facing packaging.
"These lids help optimize our packaging and eliminate the use of small plastics, just one example of the many solutions we're reviewing as part of our ongoing global commitment to reduce waste across restaurants and advance recycling," McDonald's wrote in a statement to The Takeout.
Another recent effort by the brand: reducing the amount of plastic used in Happy Meal Toys. Per the McDonald's corporate website, since 2018 the chain has reduced the amount of "virgin fossil fuel-based plastic" in its Happy Meal toys by 24.4% and intends to replace it with more sustainable materials by 2025.

G/O Media may get a commission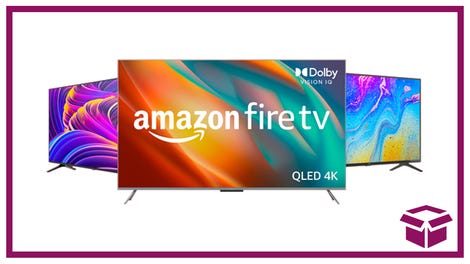 Ooh. stunning.
New Amazon Fire TVs
McDonald's has also set a goal to require "at least one item" to be recycled in 100% of its restaurants by the end of 2025. The requirement used to be to "recycle guest packaging in 100% of McDonald's restaurants" but the narrower "at least one item" phrasing makes the company's sustainability goal more broadly achievable, since, as McDonald's explains, "across the globe, waste and recycling infrastructure differs heavily." By the end of 2021, on average, around 78% of the brand's largest European markets offered recycling to guests and on average 35% of McDonald's restaurants in its top 35 markets also offered the option to recycle packaging.
McDonald's commitments to sustainability are not unique in the fast food space. In recent years, other chains have made similar commitments to transition to more sustainable materials. For example, in 2021, Burger King tested out reusable materials for its forks, knives, straws, spoons, drink lids, fry pods, Whopper wrappers, and napkins.
For as much of an impact as the new drink lids might make, McDonald's new strawless design is just a small adjustment to reduce waste. As fast food chains continue to mount a global effort to introduce recyclable materials, those changes will only be as effective as the companies' ability to ensure those materials are actually getting recycled. We can do our part as consumers, but global corporations will need to do theirs, too.