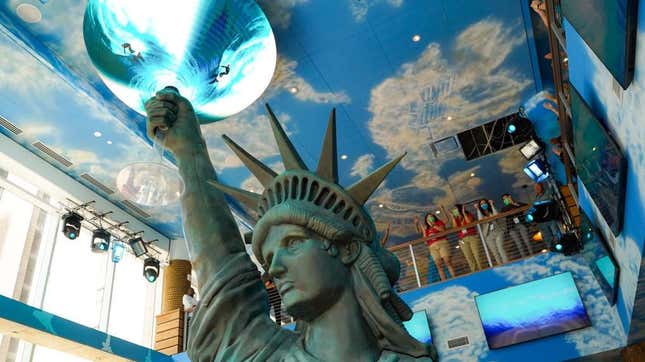 Jimmy Buffet's Margaritaville Resort and Restaurant location in Times Square has described itself as an oasis in the city, but Bloomberg reports that oasis might be slipping away as the chill vibes give way to the stress of keeping up such a costly business.
How To Dispose Of Cooking Grease The Easy Way After Frying
Soho Properties, the owner of the resort hotel, recently filed for bankruptcy and planned a foreclosure auction. However, the New York Post reports that the auction, which was set for July 10, was prevented by the bankruptcy filing, and it was largely a result of Margaritaville's owner failing to pay back a $57 million loan on the hotel property.
The Margaritaville location in Times Square has 230 guest rooms, over 34,000 square feet of retail space, as well as five bars, and an outdoor pool—not to mention the gigantic Statue of Liberty Replica that holds a cocktail glass. Clearly, there's a lot to get sorted out in court. 
The hotel originally opened in 2021, during the pandemic, and specifically at a time where the travel industry was struggling to recover. With travel restrictions in place and people generally avoiding being in densely populated areas (like, say, Times Square), this was likely not the best time for a large-scale hotel to open in a major tourist spot. On top of that, Crain's New York Business reports lenders to the hotel are now suing the owners of Margaritaville for more than $85 million, arguing that they are still personally responsible for paying back the original loan on the hotel despite the bankruptcy filing.
"The bankruptcy filing will not impact resort operations, the property will remain open and staff members employed," said Margaritaville Chief Investment Officer Evan Laskin in an emailed statement to Bloomberg. Laskin added that the company "looks forward to delivering fun and escapism through the resort and restaurant experiences for guests and New Yorkers for a long time."
What the internet thinks about Margaritaville in Times Square
So, despite the legal and financial troubles of its owners, the resort remains open and allegedly plans to stay that way. And although the restaurant's ill-timed opening would indicate that it may have been doomed from the start, reactions to its potential downfall have been a mixed bag.
On the one hand, some are praying the resort remains open. "Hopefully @Margaritaville can avoid 'wasting away' so we can enjoy those burgers, beers, & fries in a tropical setting while dining in #NYC!!" one Twitter user wrote.
"Life may be hard but it's July 11th and Margaritaville Times Square is still standing," wrote another user, followed by a triumphant GIF from the film The Wolf of Wall Street.
In addition to the Twitterverse, some users on Reddit weren't happy to hear Margaritaville in Times Square might be closing.
"This place rocks," wrote one commenter. "Been here as a local many times. The pool is awesome and the staff is amazing. I totally hope it doesn't close. Check it out, you won't feel like you're in NYC it's kinda mind blowing."
On Yelp, recent reviews for the restaurant indicate that both the service and food are well-liked: "Dylan, our server, was amazing," reads one positive review. "The margaritas were delicious. Literally my only complaint is that not all food is available on all restaurant floors."
"My husband and I came Friday for lunch and I shall say the whole experience was just great, from the food down to the music so good I had to come back the next day for dinner with the whole family," reads another rave.

Of course, some others on those same platforms have the opposite feeling about the massive tourist attraction. One Twitter user wrote "'Margaritaville Resort Times Square Files Bankruptcy' is a headline that really autocompletes itself after the first 4 words."
"Margaritaville in Times Square sounds like what hell would look like," another said. (It's worth pointing out that the negative comments here are coming from people who do not appeared to have visited the restaurant.)

Over on Reddit, commenters who had allegedly visited Margaritaville discussed how the rooms and drinks were overpriced and the place is often empty. One user wrote, "Didn't this place just open too? Lol good riddance." Another wrote in part, "I don't work too far from this restaurant. Sometimes I will go there for lunch if I want some peace and quiet. It really is that dead."
As for Yelp, though some praised the service, others called out the food as just passable. One reviewer wrote, "The food was mediocre the drinks were exceptional but the service was phenomenal. He was a great addition to our trip to New York." This is not too far off from what many have said of the Netflix Bites Cafe. Regardless of the mixed reviews, however, Margaritaville in Times Square is still kicking… for now.